Mechanical & Pneumatic Bulk Solids Conveyors
Product Announcement from Flexicon Corporation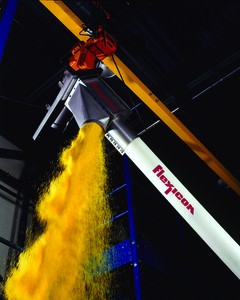 Flexicon Corporation manufactures custom conveyor systems to match the requirements of your bulk material(s), plant layout, through-put rates, residual product limitations, cleanliness, noise limitations, access, cost, cycle times and other parameters.
Because Flexicon offers a wide range of equipment, including mechanical and pneumatic conveyors, as well as systems that incorporate equipment of other manufacturers, you are assured of receiving a recommendation based on your requirement, not on limited equipment availability. Choose from a broad range of reliable, high performance equipment in carbon steel with durable industrial finishes, or in stainless steel designed and constructed to industrial, food, dairy or pharmaceutical standards.
Flexicon can submit recommendations in the form of CAD drawings that integrate equipment manufactured by Flexicon and by others, with new or existing equipment in your plant, and provide a competitive price quotation.
Using samples of bulk material you supply, Flexicon can evaluate and/or test your material in a state-of-the-art test laboratory on full-size equipment configured and accessorized to simulate your system, supply the equipment on time, help you install it, train your personnel, guarantee its performance and service it on-site.
---