EX623 5-in-1 400A AC/DC Clamp Meter
Product Announcement from Flir Commercial Systems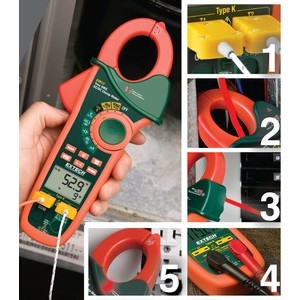 Click the yellow Request a Quote or Send an Email button now to learn more.
__________________
PRODUCT DETAILS
Get More Done with a Five-in-One!
Extech's award-winning, patented EX623 400A AC/DC Clamp Meter offers unrivaled versatility with added features like a built-in IR thermometer for locating hot spots; a non-contact voltage detector; True RMS multimeter; and dual Type-K inputs for T1, T2, and delta-T. Extech EX623: fewer tools, less spending, more results.
Watch the Video and See the Difference!
A unique, all-in-one solution for both Electrical and HVACR professionals, the EX623 features a DC µA clamp meter function for HVAC flame rod measurements. Other powerful features of the EX600 series include: a built-in non-contact voltage detector with LED alert and Data Hold plus Peak Hold of current surges during startup.
For high resolution over wider ranges, the EX623 provides a 5-digit 40,000 count LCD and advanced multimeter functions for DC Voltage, Resistance, Capacitance and Frequency. These clamp meters can measure motor capacitors to 40,000µF and feature a 1.4" (36mm) jaw opening for conductors up to 500MCM. The DC Current function is ideal for automotive, heavy equipment and marine applications, as well as newer, increasingly prevalent DC components.
For long lasting functionality, the EX623 features a rugged double molded housing. The clamp meters come complete with CAT III-600V protection, double-molded test leads, a 9V battery, two Type K bead wire probes (-4° to 482°F/-20° to 250°C) and a belt case.
Get more done with a 5-in-1!
Photo Description:
1. Dual-input Type K Thermometer for one-button delta-T measurements
2. Wide-jaw AC/DC Clamp Meter for current measurement
3. Exclusive Infrared Thermometer with laser pointer for safe, non-contact temperature measurements
4. True RMS Digital Multimeter with comprehensive measurement functions
5. Non-Contact Voltage Detector helps you safely identify energized wires before starting a job
Watch the Video and See the Difference!
--------------------------------------
Read what customers are saying about their switch to an EX623:
"I switched to the Extech for the versatility of this instrument and the ruggedness when it was compared to Fluke products. Fluke is not a bad product but Extech is coming on really strong as a direct competitor to Fluke. I use my Extech for current readings, to calculate load on motors and to help determine load curves to correctly size fuses, breakers and ITR's. I like the versatility--being able to change from one tool to another, not to mention the wide range of values you can work with. Keep up with the good work."
Juan E., Kentucky
Former Fluke 78,80 and 90 user
Industry: Electrical, Plant/Factory Maintenance
"I replaced my old Fluke and Amprobe multi and clamp meters all with Extech, 4 meters in all and I'm very pleased (EX570, EX623, EX840 and MA250). The price was great and I love the IR -- 1 less tool to carry around. I use my Extechs for VFD's, machinery troubleshooting, temperature, P.M. documentation, general building and machine maintenance."
Bradley P., Ontario
Former Fluke, Amprobe user
Industry: Plant/Factory Maintenance
"I was looking for a product to do more than the usual DMM. I had to use 3 different tools and now I only need one to do all 3 jobs. I use my EX623 for current and voltage readings on plant equipment. I use the IR for motor and breaker temperature to ensure components are working properly. It's the best meter i have ever used."
Lewis T., New Jersey
Former Ideal, Greenlee user
Industry: Electrical, Plant/Factory Maintenance
--------------------------------------
RELATED NEWS:
Extech's EX623 5-in-1 Clamp Meter Wins HKEIA Gold Innovation and Technology Award

Extech Instruments was awarded the Gold Industrial Electronics Innovation and Technology Award for its new EX623 5-in-1 clamp-on meter at Asia's biggest electronics event, the 28th annual Hong Kong Electronics Fair and electronicAsia. The competition and event were organized by the Hong Kong Electronic Industries Association (HKEIA).
The HKEIA competition aims to recognize and reward makers of outstanding new products that demonstrate excellence in design, technology, and feature sets. Nearly 100 products were entered in the competition and award-winners in three categories-consumer electronics, portable electronics, and industrial electronics-were selected from a narrowed field of 20 finalists.
"Extech Instruments has been an exhibitor at the Hong Kong Electronics Fair for many years and we recognize the major significance of this event in the global electronics landscape. We are thrilled to receive the gold award for the EX623 5-in-1 clamp meter. I was particularly aware of many discussions with judges, buyers and other exhibitors centered on the current economic conditions. This year, it was clear that judges and buyers were looking for products that are not only built to exceed the demands of customers, but also to meet their budget requirements. By offering one meter that functions in the place of five, the EX623 delivers both high functionality and high value for customers who need to get more and spend less."
About the Winning Product
Extech's 5-in-1 clamp meter is specifically designed for HVAC/R and electrical professionals in residential, commercial, institutional, and industrial settings. The EX623 accurately measures AC and DC current, voltage, and temperatures for troubleshooting both new installations and preventive/ongoing maintenance and repairs.
No other clamp meter offers the convenience and versatility of 5 meters in one instrument: AC/DC clamp meter; advanced, True RMS multimeter; infrared thermometer (Extech-patented); non-contact voltage detector; and dual Type-K thermometer.
The EX623's infrared thermometer and laser pointer make temperature readings simpler and safer. And, having two Type K thermocouple inputs make superheat and sub-cooling temperature measurements easier to perform. The DC microamp function is ideal for flame rod current measurements and the EX623's generous 36mm jaw opening handles conductors up to 500MCM.
To make users' everyday installation, diagnostic, and maintenance tasks simpler and easier, Extech's EX623 offers users a valuable combination of 5-in1 convenience, a rugged double-molded housing, competitive pricing, top-spec capabilities, and less toolbelt/toolbox clutter that no other brand can offer. Extech's 5-in-1 redefines expectations about clamp, multimeter, voltage detector, IR thermometer and Type-K thermometer functionality and form factor.
Designed by customer feedback, users increasingly demand multi-function capabilities, one device, no compromises.
Get More Done with a Five-in-One!

Play EX623 5-in-1 400A AC/DC Clamp Meter Video
---