Flowrox Automatic Valves
Product Announcement from Flowrox Inc.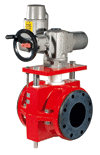 Flowrox automatic valves are ideal for shut off or control applications that involve abrasive or corrosive slurries, powders or coarse substances. Their advanced flow control solutions meet even the most stringent customer specifications. Flowrox valves offer substantial savings through improved performance, longer service lifetime and lower maintenance costs.
Modular Design
Their modular valve design has three main components: the sleeve, the body and the actuator. The sleeve is the only part that is in contact with the process medium. The construction and materials of all three main components can be tailored to suit most process conditions. Self-cleaning Flowrox valves provides 100% tight shutoff even if solids have built up on the sleeve wall. When compressed, any crystallized particles flake off the sleeve surface and are washed downstream.
Technical Specifications
Size range: standard range from 25 mm to 1.000 mm
Temperatures: -50°C to +160°C
Operating pressures: vacuum to 100 bar
Flowrox provides tailor-made flow control solutions precisely in accordance with the customer specifications.
---