Flowrox Peristaltic Pumps for Metering (LPP-M)
Product Announcement from Flowrox Inc.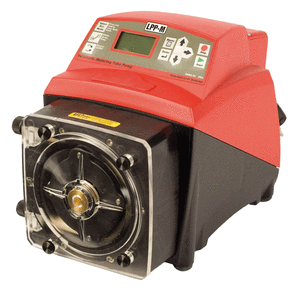 The innovative Flowrox Peristaltic Pumps for Metering (LPP-M) set a new industry standard for peristaltic pump technology. Designed and manufactured for the industrial marketplace, they are ideal for pumping diverse chemicals and liquids and metering a wide range of media.
Features:
Operating Principle
The operating principle of the LPP-M pump is based on peristaltic effect. There are two types of rollers in the rotor: squeeze rollers and centering rollers. Squeeze rollers push medium forward through the tube and centering rollers guide the tube to right alignment.
As the squeeze roller rotates along the tube, the process medium gets pushed forward through the tube. At the same time, the tube behind compression point reverts to its original circular shape creating a suction effect at the pump inlet port.
As a result, the tube bore gets filled with the medium. No backwards flow can occur as the tube is squeezed tight by the roller.
Excellent Chemical Resistance
Proven tube from thermoplastic materials designed for chemical industry gives secure operating conditions for both environment and operators.
Durable pump head and rotor material selections and optimized number of parts suite excellent to corrosive operating environment.
Rigid one piece rotor assembly enables one minute maintenance and easy cleaning of the pump head.
Superior Accuracy for Your Processes
Accuracy of metering in any application is the most vital property of a metering pump. Flow rate of LPP-M metering pump is not affected by variation of the discharge pressure condition.
Positive displacement of the tube bore with zero slip provides same output volume on every cycle.
Squeeze point of the tube acts as self cleaning non-return valve without clogging risk providing clear flow path with no possibility for vapor locks.
Trailblazing Technology
Equipped with the standard technical features of a typical peristaltic pump such as dry run capability and self priming, the LPP-M pumps provide exact flow per cycle.
Seal less pumps will not get damaged even if they run dry for longer periods of time.
The LPP-M pumps are compact in design and their robust construction is straight designed to industrial use.
LPP-M pumps have also the highest maximum working pressure on the markets.
Voltage is automatically detected and adjusted by power supply and input power range is 96VAC to 264VAC 50/60 Hz.
---