Flowrox Valve Sleeve
Product Announcement from Flowrox Inc.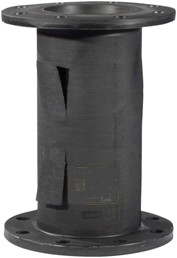 Flowrox sleeves are handmade layer by layer in a quality process covered by ISO 9001:2000. The standard sleeve design consists of three sets of layers: the inner layer, the reinforcement layer and the outer layer.
The inner layer, which is the only part in contact with the medium, is resistant to wear and chemicals.
The reinforcement layer gives the sleeve its pressure retaining capability. The operating pressure of the sleeve determines the reinforcement fabric to be used in this layer.
The outer layer protects the sleeve from the external process environment.
All standard Flowrox sleeves are equipped with opening tags to ensure full valve opening in all conditions.
A Wide Range of Material and Design Options
Pinch valves are often applied in aggressive, abrasive and corrosive media types, or in high-pressure applications. To cover a wider range of applications, our R&D has developed several sleeve materials and constructions to meet these industry specific needs. The high-grade Flowrox sleeve materials range from wear resistant styrene butadiene to numerous other elastomers and rubber compounds. These materials are highly resistant to abrasive and corrosive slurries, powders and granular substances. By introducing a HNBR, hydrogenated nitrile sleeve material, Flowrox sleeves can now handle temperatures up to 160°C.
---