New Flowrox progressive cavity pump in waste water
Product Announcement from Flowrox Inc.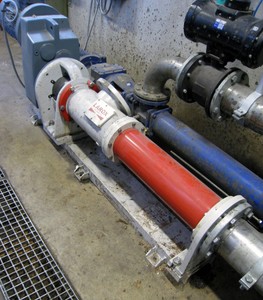 Flowrox has delivered EL 100/6 progressive cavity (PC) pump in the beginning of year 2011 to Biovakka Suomi Oy, Topinoja dumping ground. Biovakka produces biogas, recycled nutrients and transport fuel from organic raw materials such as farm-produced manure, wet sludge from the food industry and organic waste from retail trade and communities. In Topinoja dumping ground in Turku municipal waste of 300 000 people is processed in 21-day cycle.
Flowrox progressing cavity pump is pumping municipal waste, which has rated capacity of 20-25 m3, dry solids content 26 - 28 % and macerators placed on both sides of the pump. The PC pump rotor is made of chrome plated stainless steel. Other parts in contact with fluids are either stainless steel or case hardened steel.
Flowrox progressive cavity pump selection includes the following types of pumps:
Series C and E pumps for demanding duties e.g. in pulp & paper, mining & minerals and chemical industries
Series D pumps for dosing
Series EL, a very compact solution for environmental applications such as waste water and municipal waste
In Biovakka they use the block-model framed EL-series pump. In this type of PC pump the bearing is inside the gear, not in the pump's body like in other series' pumps. In waste water applications a single-action seal is often used in EL series pumps, but if the application is more demanding also double-acting seals are available. With EL series pump a 6 bar counter pressure is achieved by longer pitch elliptic rotor. With this longer pitch rotor higher output is achieved with lower cycles. Lower cycles lead to lower friction and wearing of rotors and stators.One very challenging issue in Biovakka's process is that the bio mass normally very easily jams the rotor and coupling rod. In Flowrox progressive cavity pump there are access holes as a standard, and through these holes jams are easily removed, without dismantling the whole pump.
The precise 3D-technology allows a rigid and tighter pumping unit, which enables high pressure and remarkably better efficiency compared to conventional progressive cavity pumps. With optimized compression of rotor and stator friction, spillover and wearing is minimized and pump can be used with the same rotor also in high temperatures. Easy installation, usage and maintenance have been taken into account in pump's structure, e.g. the direction of pump's suction connection can be adjusted stepless and change of seals is quick and easy. Flowrox PC pump was very simple to assemble into the existing pipeline. With Flowrox PC pump's built-in advantages the customer's actual savings both in energy consumption and in installation and maintenance costs result in the total cost of ownership decreasing and higher plant availability.
Biovakka decided to choose Flowrox progressive cavity pump, as Larox Flowsys is very well known for its quality, especially when dealing with very abrasive and aggressive applications. In this specific application the process is extremely wearing, and rotors and stators need to be changed every now and then. Thus reliable spare part deliveries are also critical. Flowrox has its own spare part production and the customer has a warehousing deal for wearing parts with Flowrox Service. Biovakka has been very satisfied with the service of Flowrox and based on the pump's operation experience it is obvious that Flowrox progressive cavity pump is the most applicable pump in this application.
---