Product Announcement from Fluidtrol Process Technologies, Inc.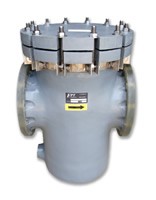 FRP Basket Strainer (P-Series)
P-Series is a Fiberglass Reinforced Plastic strainer system manufactured with premium grades of vinylester resin: Derakane 411 or Hetron 922. Fluidtrol Strainers feature a five part construction.
These strainers are chemically tolerant of many industrial and process chemicals.The list is too long to include on this page. If you wish to see if your chemicals are safe to use with our chemically resistant strainers see the "ASHLAND CHEMICAL RESISTANCE" chart available on their website..
Materials of Construction
Two Chemical Barriers: Nominal thickness 10 mils of Nexus veil, resin to 10% reinforcement. (Layers 1 & 4)

Anti-wicking barrier: 100 mil of chopped strand glass, 75% resin to 25% reinforcement. (Layer 2)

Structural Layer: Filament wound continuous roving, wind angle 55 deg: 30% resin to 70% reinforcement. (Layer 3)

Exterior Protection: Polyester resin gel coating. 10 mil thickness. (Layer 5)
This construction offers the finest in chemical and impact resistance. An abrasion resistant construction is available. Specify A-Series, also Fluidtrol H-Series is available for higher temperature applications.
FPT offers two styles of duplex basket strainers, horizontal in-line and vertical off-set. For details, see our Industrial Strainer page. F.P.T. also offers a manifold WYE strainer system.
Design Features
All inlets and outlets are of flanged construction as standard.
Fluidtrol FRP strainers are supplied with flanged tops and Teflon envelope style gasket. Other covers are optional.
Port configurations: As standard all basket strainers are of in-line design. For special applications off-set, angled off-set and boot configurations are available.
PRESSURE DROP: FPT basket strainers are engineered to provide the lowest practical pressure loss. Basket open area minimum 4 times the cross sectional area of the pipe.
Standard Basket Material is PVDF and perforation patterns can be customized.
For more information please call, email or visit us at:
Fluidtrol Process Technologies, Inc.
3460 Stanwood Blvd. ~ Huntsville, AL 35811
Toll free: 888-551-0511
Phone: 256-859-1609
Fax 205-444-9356
Email: fpt@fluidtrol.com
Website: www.fluidtrol.com
You have successfully added from to your part list.
---