Product Announcement from Fluitec International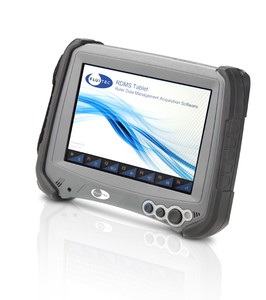 In many applications such as turbines, hydraulics, compressors and aerospace, oxidation is the primary mode of failure. In these applications, the most important additive components are antioxidants. All oils eventually fail due to oxidation. Use of the RULER View™ condition-based monitoring (CBM) technology, provides the full picture of a fluid's antioxidant health – it's a window into the health of lubricant. Contact Fluitec today for more on what your lubricant is trying to tell you.
In the past, indirect measurements of the fluid's antioxidants were taken. One common test is RPVOT (ASTM D2272) that examines the oxidative stability of the fluid. This technology has been shown to be less effective in today's complex formulations employing hydro-treated mineral oils and new antioxidant technologies. Other techniques to directly measure antioxidants such as infrared analysis (FTIR) often cannot provide the full picture. FTIR interpretation is complex and some additive components mask the critical antioxidant region.
The RULER View™ was developed to provide the full picture of a fluid's antioxidant health and is the optimum window into the health and life of your lubricant . RULER technology is a critical part of an effective condition-monitoring program. Using the RULER View™ extracts the maximum historical data from your oil allowing your organization to make better decisions in the future.
The RULER technology has received strong industry support over the last 15 years. There are four ASTM standards written around it (D7590, D6971, D6810 and D7527) as well as industry guidelines (DASTM4378 D6244 and DIN - VGB M416). Major equipment OEMs such as Siemens and GE recommend RULER as part of a condition-monitoring program. Furthermore, most oil and additive manufacturers use the RULER technology as both a condition monitoring and research tool to gain further insights into their lubricant formulations.
The design is rugged for harsh industrial environments yet refined at only 3lbs. with innovative features including a microphone for real-time dictation of data relevant to the sample and a integrated camera to capture the picture of the MPC patch (Membrane Patch Colorimetry, ASTM D7843) used when measuring varnish potential and barcode decoding capabilities. The Built-in report template and integrated software allows you to sync quickly using ZigBee® wireless, Bluetooth or via USB.
For more on RULER View™, click here.
Contact Fluitec today at: (888) 557-9575 for more information on this and other innovative solutions for lubricant condition monitoring.
You have successfully added from to your part list.
---