Fluitec's ESP - Lubricant Varnish Mitigation
Product Announcement from Fluitec International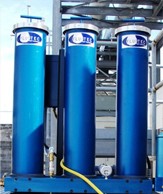 Eliminating varnish requires that you continually remove these deposits in both physical states. ESP media selectively separates and removes the oil's bad components (degradation by-products) and leaves behind the oil's valuable components (additive systems). The degradation products are bonded to the media, removing the risk of soft contaminant leaching. Soft contaminant leaching is common with other varnish removal technologies and can occur with temperature fluctuations in the fluid.
Lubricant varnish has become a significant maintenance problem in many critical applications, such as gas turbines, paper machines and compressors. Turbine oil varnish has been a particularly high profile issue over the last decade. A very small amount of varnish that settles in a susceptible zone, such as a GT's fuel control or IGV valve can disable the unit from starting properly, resulting in a fail-to-start condition or in some cases a unit trip.
Varnish can negatively impact a plant's maintenance costs, reliability program and availability. Fluitec has the knowledge and technology to monitor the onset of varnish and solve this issue before it impacts your plant's operations
You have successfully added from to your part list.
---