Laser Gas Analyzer (Extractive Model) LGA-4500
Product Announcement from Focused Photonics (Hangzhou), Inc.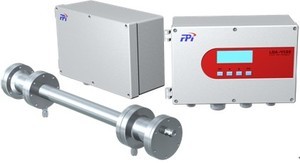 The Process Gas Laser Analysis System of LGA-4500 series (Extractive Model), the extractive process gas analysis product based on the technology of diode absorption spectroscopy (DLAS), is able to make on-line analysis on carious process gases with high dust or high pressure after the extractive treatment and is with such features as strong adaptability and high reliability.
Product Features
Laser extractive measurement, high measurement accuracy, strong anti-interference ability
Optical non-contact detection, with the ability to direct measure gas with high temperature and strong corrosion
Simple and reliable extractive treatment equipment, with the possibility to be directly installed at the process pipeline
While system explosion-proof, supporting the automatic compensation of gas temperature and pressure
Technical Specifications
Technical indexes
Linearity error: ≤±1%F.S.
Span drift: ≤±1%F.S./half-year
Repeatability: ≤±1%F.S.
Explosion-proof grade: Expxdia llC T5
Protection grade: IP65
Response time
Warm-up time: ≤15Min
Response time: ≤5s (T90)
Interface signals
Analog output: 2-path 4-20mA, isolation, maximum load of 750 ohm
Relay output: 3-path relays, 24V, 1A
Digital communication: RS485 (RS232 or GPRS optional)
Electrical characteristics
Power supply: 100-240V AC/48-63Hz
Power consumption: < 15W (with no heat tracing)
EMC: IEC 61000-4-2 IEC 61000-4-4 IEC 61000-4-5
Electrical safety: IEC 61010-1
Fuse: 250V AC/1A
Sample gas's conditions
Sample gas's pressure: 0.5-3 bar (absolute pressure)
Sample gas's temperature: -30°C~140°C
Operation conditions
Work environment temperature: -30°C~60°C
Storage temperature: -40°C~80°C
Purging gas: 0.3~0.8MPa industrial nitrogen (99.99% purity for low range O2)
or instrument air (without oil and water)
Parameters of Measured Gases

Gas

Detection limit

Measuring range

O2

100ppm

(0-1)%vol, (0-100)%vol.

CO

0.6ppm

(0-60) ppm, (0-100)%vol.

CO2

1.4ppm

(0-140)ppm , (0-100)%vol.

H2O

0.3ppm

(0-30) ppm, (0-100)%vol.

H2S

20ppm

(0-2000)ppm, (0-100)%vol.

HF

0.02ppm

(0-2)ppm, (0-10000)ppm.

HCL

0.1ppm

(0-10)ppm, (0-100)%vol.

HCN

0.3ppm

(0-30)ppm, (0-1)%vol.

NH3

0.2ppm

(0-20)ppm, (0-100)%vol.

CH4

0.4ppm

(0-40)ppm, (0-100)%vol.

C2H2

0.1ppm

(0-10)ppm, (0-100)%vol.

C2H4

0.6ppm

(0-60)ppm, (0-100)%vol.

CH3L

0.6ppm

(0-60 ppm, (0-100)%vol.

Notes:1,Consult FPI for alternative gases and ranges.

2,Detection limit refers to below conditions:20°C, 1 atm,1 meter optical path.
You have successfully added from to your part list.
---