UV Optical Fiber Spectrum Analyzer -- OMA-3000
Product Announcement from Focused Photonics (Hangzhou), Inc.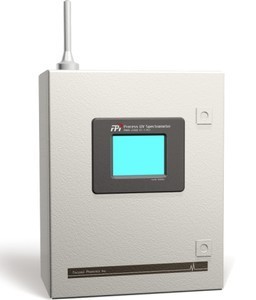 The OMA-3000 Online UV Optical Fiber Spectrum Analyzer is a product that can be applied to high precision online measurement of gas concentration, such as SO2, NO, NO2, H2S, and Cl2 and etc.
The OMA-3000 can be extensively applied to system industry process, environment protection and etc.
Measurement Principle
UV light from lamp-house pool into fiber and then are transmitted to the flow cell. After absorbed by measured gas in the flow cell, they are transmitted to spectrometer via fiber and decomposed via grating. And then optical signal is converted to electronic signal by array sensor and get the spectroscopy information.
System Feature
The OMA-3000 System is a new generation analyzer basing on holographic grating spectrum
technology and differential optical absorption spectroscopy analysis technology, the whole analyzer is stable and reliable, with high performance index, long service life, convenient operation, and low workload on maintenance and calibration. This analyzer has the following features:
High measurement precision
The OMA-3000 uses UV difference technology, solves effectively the interference of water, dust etc on measurement precision.
High reliability
The gas analyzer uses light source with long service life.
The OMA-3000 uses holographic grating spectrum and sensor array technology, with no moving parts.
Easy maintenance, low maintenance cost
The analyzer is with automatic and manual calibration and zero adjustment functions.
The light source, flow cell and spectrometer of OMA-3000 are connected with each other by optical fibers; the components are modularized, easy maintenance and renewal.
Possess the ability of PLC to control the exterior magnetic valve.
Ample user interboard. 1.6 Operation Notice
The gas that enters the analyzer must be no oil, no water.
The gas flux that enters the analyzer should be controlled as (1-3) L/min.
Confirm the gas path air proof.
Technical Specifications
Linearity: ≤±1%F.S.
Span drift: ≤±1%F.S.
Repeatability: ≤±1%F.S.
Anti-explosion grade: Expxmd IIC T4
Protection grade: IP65
Warm-up time: ≤15min (with no heat tracing)
Instrument response time:≤10s
Analog output: 5-way 4-20Ma,
isolated, maximum load 750Ω
Relay output: 8-way relay,
specification 24VDC,1A
Digital communication: RS485/RS232
Power supply: 220V AC/48-63Hz
Power consumption: ≤100W
(with no heating tracing)
EMC: IEC6100-4-2
IEC61000-4-4
IEC61000-4-5
IEC61000-4-11
You have successfully added from to your part list.
---