Product Announcement from Fotronic Corporation / Test Equipment Depot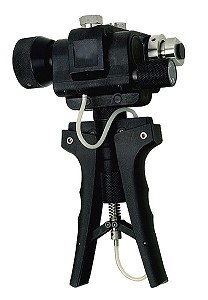 Multi-function "4 In 1" hand pump
60 bar pneumatic, 700 bar hydraulic
Generates vacuum to 95%
Vacuum priming for Hydraulic systems
Excellent low pressure Control
Adjustable overpressure protection
Visit us at www.Testequipmentdepot.com or call us at 1-800-517-8431
The revolutionary PV 411A (4 In 1) multi-function pressure generator is a remarkable new hand pump for generating vacuum, gas and hydraulic pressures from a few mbar up to 700 bar. It replaces four conventional hand pumps and sets the following new standards of performance:
Vacuum: to 95%
Low pressure (gas): 0.1 mbar resolution
Medium pressure (gas): to 60 bar
High pressure (hydraulic): to 700 bar
The PV411A is the ideal field tool for applying test and calibration pressures to sensors, gauges, switches, indicators and recorders. It is also a low cost pressure source for workshops and laboratories. This wide capability removes the need to carry several hand pumps. Vacuum Applying vacuum to absolute, negative gauge and differential field instruments is no longer a problem. With just a few strokes, the PV 411A generates up to 95% vacuum (-950 mbar at 1000 mbar ambient).
Low Pressure (pneumatic)
For sensitive low pressure applications, the PV 411A volume adjuster alone generates 300 mbar to within 0.1 mbar. The stroke restrictor varies the pressure generated and prevents accidental overpressure.
Medium Pressure (pneumatic)
The PV 411A generates gas pressure up to 60 bar, exceeding conventional hand pumps by more than 30 bar. This combined with an improved P/V selector value provides a more controllable release of pneumatic pressure. This extended capability enables many new applications to be addressed.
High Pressure (hydraulic)
The PV 411A solves the problems of priming hydraulic systems; eliminating airlocks and fluid leakage. This is achieved with a unique vacuum priming facility. The volume adjuster is used to quickly and accurately generate pressure up to 700 bar.
You have successfully added from to your part list.
---