Product Announcement from Fotronic Corporation / Test Equipment Depot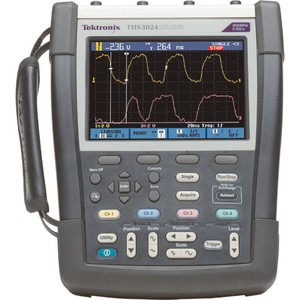 200 MHz Bandwidth
4 fully Isolated and Floating Channels
600 VRMS CAT III rated inputs
10K points standard record length on all channels
5 GS/s Maximum sample rates
Advanced triggering
21 automatic measurements
FFT function standard on all models
7 Hours of continuous battery operation
USB 2.0 device and host support
Lightweight and portable
Tektronix OpenChoice desktop software included
3 year warranty
Visit us at www.Testequipmentdepot.com or call us at 1-800-517-8431
With up to 200MHz bandwidth, 4 channels, and 5 GS/s maximums ample rate, no other oscilloscope offers as much bandwidth and sample rate in a portable handheld form factor. The Tektronix THS3024 Handheld Oscilloscope Series has 10,000 points record length per channel, enabling you to capture more signal information at higher sample rates to clearly see signal details. For applications where it is important to measures low-changing signals over long time periods, the Tek THS-3024 offers Roll mode that extends the record length to 30,000 points of signal information.
The Tektronix THS/3024 Handheld Oscilloscope is packed with analysis tools to help you validate your device's operation and identify issues quickly. With waveform math, you can add, subtract, or multiply any of your signals to investigate instantaneous power or look at gain. Vertical and horizontal cursors allow you to look at a specific point on your waveform for accurate measurements of voltage, current, time, or frequency. With 21 automated measurements, you can make common measurements quickly and accurately. The built-in Fast Fourier Transform (FFT) function allows you to see the frequency spectrum of your signal, revealing signa linterference, cross talk, or switching noise.
Intermittent faults can be caused by timing errors, temperature changes, environmental influences, or simply broken wiring or connectors. The TrendPlot function helps you find those faults by plotting minimum and maximum measurement values over time. You can select up to 4 measurements and plot any combination of voltages, amps, frequency, time, and phase for any or all four inputs, all with time capture information.
Capturing random or changing signal scan often be difficult. The Tektronix THS3024 greatly simplifies any type of waveform data logging by continuously capturing 100 display screens. Each screen capture can include multiple channels and math waveforms, each with its own timestamp. Data capture can also be tailored to specific events by selection of qualified trigger conditions. Play back is quick and easy with the automatic replay of all captured screens or only the screens you select.
You have successfully added from to your part list.
---