Product Announcement from Fotronic Corporation / Test Equipment Depot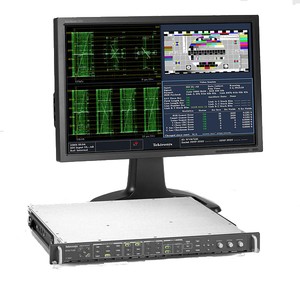 Features:
The WVR7020 Series Offers Analog, SDI and Dual-Link Monitoring Options In One Platform
The WVR7120 Provides Options For:

Numerical and Graphical Display of A/V Delay
Simultaneous A/B Input Support Extends Monitoring Functions
CaptureVu Allows You To Store And Compare Diverse Views Of The Reconstituted Signal (Standard In WVR7120)
High Performance Eye, Jitter and Physical Layer Measurements Help Quickly Resolve Difficult Quality And Reliability Problems

Passive loop-through inputs allow for transparent monitoring at any point of the signal path
Tektronix See and Solve Displays Facilitate Compliance Verification with FlexVu, The Most Powerful 4-Tile Display
A Variety Of Remote Interface Capabilities To Facilitate Centralized Monitoring
Exceptional Audio Monitoring, With Options For Analog, Digital and Dolby (On WVR7120) Audio Formats Reduces Time And Effort In Verifying Multi-Channel Audio Content
Instrument Presets For Quick Recall Of Commonly Used Configurations
Digital Cursors For Precise Time, And Amplitude Monitoring
Closed Caption Decode And Display Capability Helps Operators Quickly Verify And Correct CC Errors
Standard And User-Definable Safe Area Graticules Facilitate Editing Tasks And Reduce The Need For Format Conversion
Applications:
Monitoring And Compliance Checking In Video Distribution And Broadcasting
Quality Control In The Video Production And Post Production
Equipment Qualification And Troubleshooting In The Installation And Maintenance Of Video Facilities And Systems
Visit us at www.Testequipmentdepot.com or call us at 1-800-517-8431
The Tektronix family of Video Rasterizers provides a wide range of options to satisfy your monitoring and measurement needs. Ideal for multi-format environments, these Rasterizers offer performance and flexibility needed for demanding video applications. These instruments offer options to monitor SDI and Analog Composite Video, as well as Audio Signals, all from a single, convenient 1 RU instrument.
The WVR7120 and WVR7020 introduce the most powerful Dual-Link monitoring capability compliant with SMPTE 372M. These instruments provide selectable display of Alpha Channel and automatic format detection on signals with 352M Video Payload Identifier (VPID).
The WVR7120 features advanced monitoring and measurement tools such as CaptureVu and provides options for A/V delay measurement and simultaneous input monitoring.
WVR6020
The WVR6020 can monitor SD digital video, NTSC/PAL analog video, or both video formats. Available audio options offer support for monitoring digital audio (embedded and AES/EBU inputs) and analog audio
WVR7020
The WVR7020 provides an ideal solution for basic monitoring of HD/Dual Link video and non-compressed audio. It provides flexible options to monitor different combinations of Dual-Link, HD/SD digital and composite analog video
WVR7120
The WVR7120 offers the complete range of options of the WVR product family. It provides high performance monitoring and measurement for applications involving HD/Dual-Link digital video and a variety of audio types.
WVR7120, the most advanced product of the WVR family, introduces powerful monitoring and measurement capabilities such as CaptureVu, A/V Delay Monitoring and Simultaneous Input display. CaptureVu enables storage and comprehensive analysis of a variety of reconstituted trace displays of a capture video frame which can also be compared to a live signal. Options available on WVR7120, such as A/V delay measurement and simultaneous input monitoring facilitate content compliance verification and correction while boosting your productivity. This instrument provides flexible options for video monitoring of Dual-Link, HD/SD digital and composite analog video
Available audio options offer support for analog, digital AES/EBU, Dolby Digital and Dolby-E audio.
Analog, SDI and Dual-Link in one Platform
Ideal for multi-format environments, the Tektronix family of Rasterizers provides flexible solutions that fit your requirements offering options to monitor diverse video types including Composite Analog, SD, HD, and Higher-resolution Dual-Link. The WVR7020 and WVR7120 Option DL features SMPTE 372M compliant monitoring. These Rasterizers provide the unique capability to interpret the 352M video payload identifier for automatic format detection. These instruments simplify the monitoring of Link A and Link B or the combined Dual-Link input with a comprehensive set of video/audio displays and a wide range of status report tools.
For Dual-Link signals, Tektronix Timing display, proves a valuable ally to address the challenges of maintaining correct timing between links A and B. WVR7120 options EYE and PHY enable physical layer measurement capabilities such as Eye and Jitter for the link A and link B signals or the combined dual-link content. Tektronix Dual-Link Capability provides selectable display of Alpha Channel and monitoring of Embedded Audio in both links. With the available Dual Link, a total of 8 Audio Channels can be monitored distributed across the two input channels with a maximum of eight channel on one of the two inputs.
A/V Delay Measurement
Audio and Video synchronization is an important challenge in the overall processing of video materials. Tektronix Option AVD available in WVR7120 gives Installation and Maintenance Engineers an added dimension of testing to insure complete system integrity and facilitate A/V delay compliance.
CaptureVu provides the ability to capture the data of a digital signal. This allows for full digital processing of the capture to re-create any one of the Waveform, Picture or Gamut displays. Each tile can be configured to display live, frozen or live+frozen views of the signals being compared. In addition to user-initiated captures, the instrument can do a triggered capture that automatically acquires data on the occurrence of specific faults. Triggered capture is particularly useful for finding intermittent errors and in capturing data about fault conditions at remote sites.
Tektronix Options EYE and PHY available on WVR7120, provide true Eye and Jitter measurements with the unique capability to detect jitter deviations exceeding 1 UI and display simultaneously timing and alignment jitter measurements.
Option PHY provides the additional capability to perform automated measurements to speed up the measurement process. This option, also features Tektronix exclusive timing and alignment jitter waveform displays.
Only Tektronix EYE and PHY options provide jitter filters from 10Hz to 100kHz, timing and alignment to effectively isolate the sources of jitter. These displays include cursors to manually measure Eye parameters and user-selectable clock bandwidths to help isolate jitter components. These options can display Eye Patterns in 3-Eye, 10-Eye (SD-SDI), or 20-Eye (HD-SDI) mode. Option PHY automatically measures Eye amplitude, rise-time and fall time-time.
An easy-to-interpret jitter gauge augments the numeric jitter readouts. The jitter waveform display available with Option PHY lets engineers examine signal jitter in greater detail. The jitter limit settings are flexible and can be modified by the user.
The See and Solve displays in Tektronix video monitors simplify video monitoring tasks such as calibration, error detection and content correction allowing to detect errors at a glance and troubleshoot them efficiently.
Tektronix displays offer the sharpest CRT-like trace quality for clear waveform monitoring without pixelation distortions. The WVR Series features user-selectable trace colors including the pseudo-color representation that highlights signal concentrations using color variations. With several sweep rates and easy control of vertical gain and horizontal magnification, you can efficiently monitor and measure video waveform parameters.
Specialized displays provide summarized, yet comprehensive reports of alarms, session and status of content. Powerful displays such as Video Status show in a condensed way error statistics, signal format, presence of ancillary data and more. These Tektronix exclusive displays simplify monitoring tasks by providing important content information at a glance.
The patented Tektronix Split Diamond and Arrowhead gamut displays simplify the process of verifying gamut compliance. The Split Diamond display helps easily identify and correct RGB gamut errors in digital video signals. The Arrowhead display saves time in verifying the gamut compliance of the composite analog video signal generated from a digital video signal.With FlexVu, you can simultaneously monitor both gamut displays to quickly gain complete confidence in content compliance throughout the delivery chain. Also, user-selectable gamut thresholds let you tailor these displays, and the associated gamut alarms, to your particular compliance standards.
Flexible audio options, add comprehensive audio monitoring capabilities for Analog, Digital AES/EBU and Dolby audio to the WVR6020 and WVR7020 Series video Rasterizers. The first level of audio content monitoring is enabled by user-friendly displays. These displays can be selected to provide monitoring for both embedded and AES digital audio formats.
The Level Bars display provides in-bar indicators for faults, audio levels and loudness and Dolby format information. The instruments sense automatically Dolby audio formats and place a message in the appropriate audio bar eliminating confusion about audio input formats. It can display up to 6 bars of analog, up to 8 bars of AES audio, and up to 10 bars of decoded Dolby.
The multiple-channel Surround Sound1 display, available with the WVR6020, WVR7020 and WVR7120 audio options, is the most comprehensive analyzer for audio content, providing intuitive graphical representation of the interaction of multiple channels of a surround sound system.
This display shows audio levels (weighted or un-weighted), total sound volume, phantom source locations, and dominant sound position. The Flexible Lissajous display allows the selection of any two of channels. Specialized audio session and status displays provide deeper insight of the audio signal. The audio session display provides a color-coded summary of audio conditions per channel, peak/high levels, and number of active bits for each channel. It also displays loudness calculated by channel, by pair and by program throughout an interval.

The Audio Control Packet Data display interprets the digital headers surrounding AES audio embedded as ANC data in video. The Dolby Status Display (available in option DDE only) offers in-depth review of decoded Dolby metadata. Audio error conditions including. AES unlock, parity and checksum errors can be selected for monitoring. In addition to monitoring audio inputs, these audio options can generate analog or digital audio outputs from any audio input source.
The audio options provide user-selectable scales, meter ballistics and audio level indicators. User-specified threshold values determine over and silence conditions and the duration a potential audio problem must persist before the instrument generates an alarm.
Passive Loop Through Inputs
Tektronix waveform Rasterizers allow for transparent monitoring at any point of the signal path. WVR Series provides unique passive loop-throughs. This feature is indispensable to assure transparent monitoring throughout the entire signal path without introducing distortion. Tektronix waveform Rasterizers can operate anywhere in the distribution system due to their high impedance, bridging, and passive loop-through inputs.
Powerful and flexible remote control features help users integrate these instruments into a variety of remote monitoring scenarios. The WVR Series instruments can be remotely accessed and controlled through a variety of mechanisms: remote front panel, web interface, ground closure and SNMP.
The remote front panel, WVRRFP, with the same buttons and knobs configuration as the front panel on the instrument, allows operators to access and control the base unit from a distance of up to 100 feet, using a cable. Users can simultaneously control the WVR from the base unit and from the remote front panel.
Using the built-in 10/100Base-T Ethernet port, users can remotely control every major feature of the instrument, view the display, download the alarm log and print the screen contents for easy record keeping. The Ethernet remote operation allow to control an unlimited number of WVR instruments from a single windows computer using a commercial Web-browser. This powerful Java application offers a variety of control options to suit individual preferences and allows users to create and recall an unlimited number of instrument presets.
Where simplified interfacing is the dominant requirement, a ground-closure type remote interface provides access to an alarm signal output and instrument presets. The ground-closure interface is ideal for use in master control scenarios or in outside broadcast applications.
The SNMP interface allows easy integration with network management software and advanced remote operation via an SNMP browser. For applications that require reproducible test sequences, like in a design and manufacturing environment, this capability also enables automated tasks managed by an SNMP script.
You have successfully added from to your part list.
---