XPRESSO Crystal Oscillators
Product Announcement from Fox Electronics, Inc.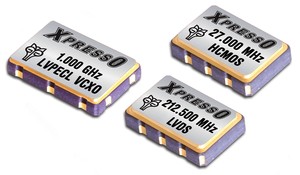 The XPRESSO Crystal Oscillator is a breakthrough in configurable Frequency Control Solutions. XpressO utilizes a family of proprietary ASICs, designed and developed with a key focus on noise reduction technologies.
Features like these are why XPRESSO is the better choice.
XOs & VCXOs
7x5, 5x3.2 and 3.2x2.5mm package options
3.3V & 2.5V versions
Production Quantities in days not weeks
1 pS phase jitter (10X better than programmable!)
Custom frequencies from 0.75MHz to 1350 MHz
Xtremely Low Jitter
Faster Delivery - samples shipped next day
An innovative, patented serial identification (ID) program designed into its XPRESSO oscillator series that ensures quality control with lot traceability previously unattainable in the frequency control industry.
The unique serial ID, internally assigned to each oscillator, enable Fox to quickly and accurately trace any product back to its original manufacturing process, including raw materials used, date of manufacture, electrical testing performed and equipment used to manufacture the specific part.
---