Product Announcement from Fredericks Company - Televac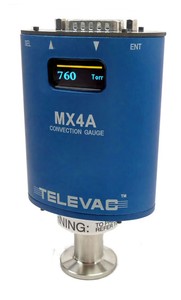 TELEVAC's MX4A Active Gauge utilizes an easily replaceable Televac 4A convection vacuum sensor. It has a variety of features including a wide range of measurement from 1 x 10-4 up to 1000 Torr, RS-485 communications, two programmable set points, and a selectable analog output. The bright OLED display makes it easy to read from a distance, even without a PC.
Options can be set from four capacitive touch controls located on the top of the unit or through RS-485 communications. The extensive selection of fittings, simplicity of use, ease of sensor replacement, and competitive cost make this unit an excellent choice for a variety of vacuum applications.
Convection Active Vacuum Gauge (atmosphere to 1 x 10-4 Torr)
Heat treatment and vacuum furnaces
Thin film deposition and coating processes
Cryogenics
Pharmaceutical product processes
TELEVAC offers a diverse range of vacuum measurement instrumentation equipment including vacuum gauges, gauge controllers, thermocouple gauges, cold cathode gauges, hot ionization gauges, cold ionization gauges, Bayard-Alpert gauges, high vacuum gauges, loadlock gauges, and convection gauges - and we service what we sell.
Not sure what you are looking for? Use our Product Selection Guide.
Whether you need a single vacuum instrument and sensor or thousands of them every year, Televac is your business partner. We solve problems and give our customers multiple benefits of conducting business with us. Learn more:
You have successfully added from to your part list.
---