Calculate Energy Savings w/ EcoPAK HVAC Drive
Product Announcement from Fuji Electric Corp. of America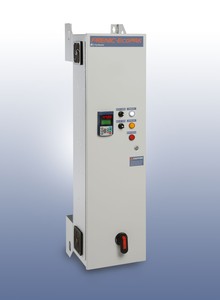 When compared to mechanical flow control devices the FRENIC-EcoPAK AC Drive solution from Fuji Electric produces significant improvements in total cost of energy as well as, reduction in required maintenance, reduction in ambient noise and process control.
Offering the most common specified features and options required by facility and consulting engineers, FRENIC-EcoPAK provides a compliant and competitive packaged drive solution for variable torque fan and pump applications in commercial buildings, educational facilities, hospitals, and industrial facilities.
Typical Applications include:
Air Handling Units (Supply & Return Fans)
Exhaust Fans
Cooling Tower Fans
Condenser Fans
Chilled Water Pumps
Hot Water Pumps
Pressure Boosting Pumps
Product Features:
Multiple configurations offer flexibility

Basic bypass (3 contractor bypass for pump applications)
Bypass (3 contractor bypass for fan applications)
Non-bypass

Integrated motor branch circuit protection, up to 100kA short circuit current rated packages
Reactor options for reducing harmonics
Soft-switching PWM drive output
Catch-a-spinning motor functionality
Enhanced automatic energy savings, reduces power consumption of both the motor and drive
LCD and LED keypad, also functions as a copy unit
Quick-start programming menu for ease of start-up
Power monitoring from the drive's keypad
Run permissives
Damper control and fireman's override for fan applications
Built-in PID control with sleep function
Communication protocols: Modbus RTU, Metasys N2, and APOGEE FLN are built-in the drive
PC software for drive set-up and monitoring
Additional communication protocols available: BACnet, LONWORKS, and Ethernet
Be sure to contact Fuji Electric today to discuss your AC drive needs for your specific HVAC Application!
Innovating Energy Technology
---