FRENIC-MEGA Series from Fuji Electric
Product Announcement from Fuji Electric Corp. of America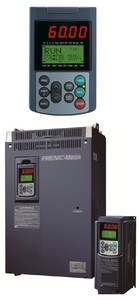 Fuji Electric's FRENIC-MEGA series provides the industry's highest performance drive for three-phase motor applications. They offer expanded power ratings and flexible configurations that support 1/2 HP up to 1,000 HP AC. They are designed for 24/7 zero down-time applications with embedded motor protection and critical maintenance functions.
Fuji Electric's FRENIC-MEGA series has improved Control Performance with available control methods: PG, sensor less, dynamic torque vector control; PG closed-loop control and V/f control. It also has good performance in current response and speed response and durability in overload operation.
The FRENIC-MEGA has versatile applications and functions; expanded power ratings and is compliant with safety standards and RoHS Directives. It has a multi-function keypad with an optional USB port and a maintenance warning signal output.
Innovating Energy Technology
---