FUJI 8.4
Product Announcement from Fuji Electric Corp. of America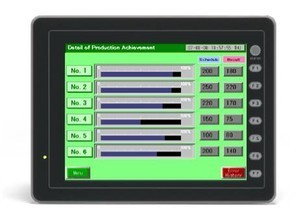 Monitouch's "new" 8.4 inch V808iCD operator interface panel is equipped with 8-way communication that enables connection with up to 8 kinds of devices via three serial channels and Ethernet. This high compatibility and expandability make for more flexible and efficient system operation.
The V808iCD, 8.4 inch display screen (VGA) with local and remote data logging capabilities ensures quality control and proper operation of critical machine manufacturing processes. The interface panel itself comes with predefined component parts and functional switches that reduce the HMI programs, providing an operator/engineer-friendly environment and provides optimal results for all types of basic machine operations including a barcode reader, PLCs, temperature controller interface and protocol gateway.
The V808iCD screen is amazingly clear and one of brightest models (450 nits) with VGA (640 x 480) and 65,536 colors or 32,768 colors + 16 blink.
OTHER BENEFITS INCLUDE:
8-way Communication - The V808iCD can be connected to 8 different devices consisting of PLCs and peripherals of different manufactures via in-bulit LAN port(100BASE-TX/10BASE-T). The V808iCD acts as a gateway among various devices. By using the 8-way communication, all the PLCs can be monitored for potential problems from a remote location without the operator being physically present on site.
3-way Commucation - PLCs and other industrial controllers like VFDs, Servo, Temperature controllers can be connected by serial connection. Up to 3 peripherals of different manufactures can be connected through 3 built-in serial ports. Each port can be connected to up to 31 units, if the unit is the same brand model.
Data management - The V808iCD is not only a gateway between industrial devices, but also can be gateway between the production site and office host system. The data pulled from these devices can be easily transfered to a PC in office or SQL Database or MES system. There is no concerns on Virus in your network through the V808iCD
The Highest Quality - The V808iCD are designed and manufactured by Hakko Electronics in Japan, a Fuji Electric Company. If you are not happy with the quality of the operator interface you are using, MONITOUCH is the choice you should make.
FEATURES:
Compatibility with SQL Database or MES system
SCADA solution (Data collection and remote monitor/remote control) via Ethernet
CF card slot equipped
FTP server supported
Remote desktop (Optional)
Easy transfer of recipe data created on PC to PLC
8 field bus compatible (Optional)
Comatible with PictBridge printers
Brightness control for dark or bright working environments
Save multiple project screen data
Over 100 Macro (Scripting) available
JPEG, BMAP diplay
PDF Viewer
8 way-communication
Modbus RTU/Modbus TCP/IP supported (Master/Slave)
USB Keyboard & Mouse compatible
SPECIFICATIONS:
9 pin Serial Port (RS232C, RS422, RS485)
2 x 8 pin Modular Serial Ports (RJ45) (RS232C, RS422, RS485)
2 x USB port
1 x Ethernet - 10/100 Base-T
1 x CF Card slot
Rating - IP65
Brightness 450 nits
UL, c-UL, UL
RoHS certifications
The ultimate in displays! - born of a search for true user-friendliness.
What can Monitouch do for you today?
Innovating Energy Technology
You have successfully added from to your part list.
---