High Power Single Stage Ring Compressor
Product Announcement from Fuji Electric Corp. of America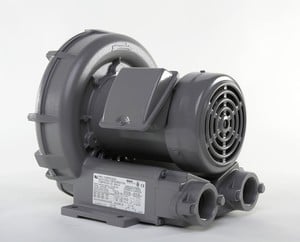 The VFC Series ring compressor from Fuji Electric is the perfect solution for blower applications requiring high levels of air agitation and vacuum pick-up.
Intended to meet the increasing needs of sophisticated equipment for substantial volumes of oil-free compressed air and vacuum at low to moderate pressures, the VFC Series has gained an unexcelled reputation for performance, reliability and quality (UL Recognized, CSA certified and CE) in thousands of applications, and in all types of environments.
Typical Applications Include:
Water & Wastewater Treatment - air agitation
Material Handling - pneumatic conveying & vacuum pick-up
Commercial Spas - spa aeration (See design guide for sizing information)
Industrial Processing - blowing & drying, air quality monitoring
Fuji Electric has maintained its market position as a leader in the blowers category for over 40 years through unparalleled customer service and a ready inventory of product in stock available for immediate delivery.
Be sure to contact Fuji Electric today to discuss your specific blower application!
Innovating Energy Technology
---