Product Announcement from FUTEK Advanced Sensor Technology, Inc.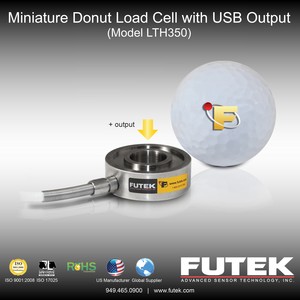 Miniature Donut Load Cell with USB Output
FUTEK Offers Miniature USB Thru Hole Load Cell
FUTEK Advanced Sensor Technology, Inc.
Irvine, CA — March
Press Release — For Immediate Release
Contact: John Vargas or John Schnell at info@futek.com
FUTEK Advanced Sensor Technology, Inc. (FUTEK) is pleased to announce a new addition to their USB Sensor Solutions Line. FUTEK is now offering their LTH350 Donut/Thru hole Load Cell with a USB Output option. The LTH350 Donut Load Cell is also part of FUTEK's Miniature Load Cell Series Line. FUTEK specializes in providing miniature solutions such as the LLB350 for applications where space is limited. This particular miniature donut load cell is perfect for Press, or Inline compression applications.
The new module with USB output eliminates the need for an analog amplifier, power supply, and display equipment making usage that much easier. The plug and play gives the user the power of monitoring the output of the sensor and receiving measurement without any worries about noise, temperature variation or power supply requirements. The USB integration also includes FUTEK's basic USB Software which allows users to monitor the output of the Sensor in real time. FUTEK also offers and Extended USB Software for data logging capabilities and additional features.
Model LTH350 is a Donut Load Cell with a high capacity range relevant to the Load Cell's miniature size. This model may be offered in a 100 lb. capacity up to 5, 000 lbs. The standard LTH350 Donut Load Cell model has a very robust construction available in 17-4 Stainless Steel, with an I.D. range of 1/8" to 5/8" and a 24 AWG, 4 conductor, spiral shielded 10 feet long Teflon cable. You will also find options for external matched output readily available.
The LTH350 Donut Load Cell offers high accuracy and high stiffness. It has Nonlinearity of ±0.5%; improved accuracy is available when required. This model has a Deflection of 0.002" nominal and Operating temperature of -60° F to 200° F. The standard LTH350 Donut Load Cell can be modified or customized to meet your requirements and most capacities are in our inventory, making them available for 24 hour shipping. Similar to our entire Load Cell product line this model is manufactured in USA and uses metal foil strain gauge technology.
Product Highlights:
Weight: 3.5 oz
Low Deflection
Compression
17-4 Steel Construction
Resistance to High Extraneous Loads
Utilizes Metal Foil Strain Gauge Technology
Product Highlights:
For those who are a looking for a complete system solution, FUTEK can provide a complete USB Solution package for this sensor. Our USB Solution comes with basic software and is also offered with a extended software version. FUTEK also offers both signal conditioned displays or our VCal Portable System. FUTEK's VCal Portable System brings an easy-to-use system verification directly to the customer making it ideal for on-site verification and calibration of your products.
You have successfully added from to your part list.
---