Product Announcement from GAF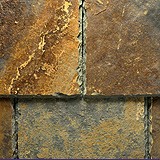 The TruSlate™ system from GAF-Elk can make your dream of owning ­a genuine slate roof a reality. The TruSlate™ system features:
Real hand-split quarried slate
(not a synthetic imitation)
An ingenious installation system
(that typically eliminates the expensive structural modifications that old-fashioned slate requires)
An affordable price
(often comparable to the cost of the cheap imitations)
How does GAF do it?
On an old-fashioned slate roof, half of each slate is never seen, because it's tucked under the piece above it. We've replaced this wasted slate with a high-tech waterproofing material. With this ingenious design, the TruSlate™ system can be installed on almost any roof.
It goes without saying, before you select your next roofing system, you owe it to yourself to consider the advantages of a TruSlate™ roof.
In fact, why even consider a plastic imitation, when you can get the real thing for about the same price—and for only a fraction of the cost of old-fashioned slate?
You have successfully added from to your part list.
---