Precision Woven Wire Mesh - Aviaition Applications
Product Announcement from G. Bopp USA Inc.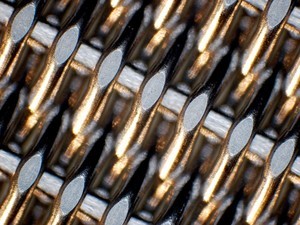 Bopp USA manufactures stainless steel, aluminum and specialty alloys for lightning strike protection, sound attenuation and composite applications for the aerospace industry. Specific applications include inlet barrels, thrust reversers, blades, fuel and hydraulic filters. Bopp is World renown for quality and expertise and commands the largest capacity for precision woven wire mesh, ranging from medium, fine and ultra-fine filter meshes available in stainless steel and all metallic materials and alloys.
Description of application: Lightning protection for blades and electrical components in helicopters.
Typical Material used: Square mesh aluminum - twilled weave, calendered and herringbone woven in order to increase flatness of mesh.
Description of application: Sound suppression in inlet barrels, thrust reversers, etc.
Typical Material used: A wide range of wire cloth especially designed for sound attenuation applications ranging from 3 to 57 nominal Rayl values. Available in Stainless Steel 304L and 316L, Aluminum 5056 and 253 MA Avesta in the following weaves: square twill weave, twilled Dutch weave, and reverse Dutch weaves.
Description of application: Fuel and hydraulic filters
Typical Material used: Sintered (diffusion bonded) multi-layer mesh in stainless steel 304L, 316L and 904L and Hastelloy. Bopp FI Metal Filter Meshes are available in twilled and plain Dutch weaves, Betamesh, Robusta, Duplex and square weaves.
ISO 9001:2008 - DFARS Compliant
---