Product Announcement from G. Bopp USA Inc.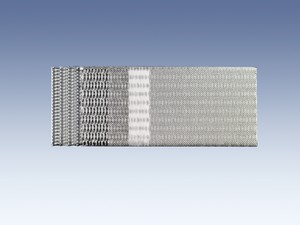 Sintering, also referred to as Diffusion-Bonding, takes place in a controlled atmosphere furnace with some degree of isostatic pressure and basically bonds all wire crossover points within a single layer of mesh. The benefit is that the mesh aperture size will not change, even under load. Bopp also sinters multiple layers of mesh together. Not only are all crossover points in each layer bonded, but all contact points between layers are bonded as well, creating a plate-like composite. The purpose of sintering multiple layers together is to provide structural strength to an otherwise "flimsy" fine mesh, or to create laminates with specific physical properties.
Bopp can sinter any combination and/or any permutation of meshes together to achieve such physical properties as mechanical strength, controlled permeability, porosity, thickness, absolute aperture size, etc. We currently manufacture sintered mesh products ranging from simple single layer plain square weaves for filtration, to laminates comprising more than 700 layers, for example, for use as thermal capacitors
Poremet and Absolta are diffusion-bonded 5-layer, surface-loading, rigid filter plates available in filter ratings from 2-100 microns in type 316L stainless steel and Hastelloy C-22. The mesh layers are carefully selected to achieve an optimum combination of stability, fine filtration capabilities, flow rate and backwash properties. Absolta offers the least possible pressure drop for its mechanical strength while Poremet offers higher mechanical strength and more construction variation. These media are exact replacements in most nutsche filters and filter/dryers and are ideal as chromatography bed supports. poreflo, a diffusion-bonded 2 or 3-layer fluidizing medium, is also offered in a wide permeability range. Poreflo is ideal for handling any fluidizable bulk solid. Applications include air-gravity conveyors, aeration beds, fluidized bins and hoppers. Type 316L stainless steel is standard with Hastelloy C-22 available on special request. All the above media are produced in 48" x 48" sheets with many specifications available from stock.
Bopp offers complete fabrication services including shearing, laser cutting, automated TIG welding and much more. Achieve longer screen life with Bopp mesh, woven from wire drawn in-house, providing 100% traceability and quality control.
ISO 9001:2008 - DFARS Compliant
G. BOPP USA Inc.
4 Bill Horton Way
Wappingers Falls, NY 12590
Phone: 845.296.1065
Fax: 845.296.1282
You have successfully added from to your part list.
---