Woven Wire Mesh for Sieving & Sizing
Product Announcement from G. Bopp USA Inc.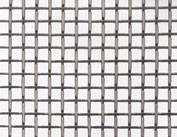 Properties
BOPP SI wire meshes are used worldwide for their high performance properties:
Accuracy of weave
Regularity
High stability
Rigidity
Corrosion resistance
Thermal resistance
Resistance to moisture
No static loading
Ease of fabrication (flat lying, no curl)
Results
Choosing the right BOPP SI wire mesh guarantees economical sieving and sizing:
Accuracy
Excellent levels of efficiency
Good product throughput
Extended service life
BOPP-SI wire meshes are produced in a clean, air conditioned environment by skilled craftsmen on state of the art looms. Rigorous quality control procedures guarantee an excellent product every time.
Applications
BOPP SI wire meshes are recommended and used worldwide by a growing number of producers of sieving and sizing equipment. Examples include wet and dry sieving equipment, vibration sieving and eddy current sieving for the production and extraction of:
Chemical products
Foodstuffs and spices (milk powder, coffee, tea, rice, grains)
Stones and powders (minerals, diamond sizing, ores, alumina)
Pharmaceutical products
Boards and fixing plates (dividing shavings and wadding)
Paper (sieving wood shavings, preparation of coatings)
Metal powders (Precision sieving of metal powders)
Rubber
Animal feedstuffs (dedusting pellets, sieving crumbs, molasses based foodstuffs)
Fertilizers (phosphates, potash, urea, mixed fertilizers)
Sugar and salt (sizing)
Recycling
Many others
You have successfully added from to your part list.
---