Product Announcement from GEA Process Engineering Inc.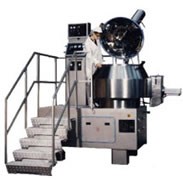 Spray Granulation Single-step granulation from an active powder
The powder to be granulated is suspended in the heated air of a fluid bed, and a liquid binder sprayed from nozzles positioned above (Top Spray Granulator™) or below (Precision Granulator™)
Capacity: from 50g to several ton/batch or several ton/hr
High-shear granulation
High Shear Granulation Mixing and granulation
The high-shear granulation process combines the active powder with a binder solution using a high-speed mixing blade and chopper. The Pharma Matrix ™ is a stand-alone mixer / granulator. The GP System™ is a modular Building Block System™ offering user-selectable options for mixing, high-shear granulating, vacuum or microwave drying and melt or wet pelletizing.
Capacity: from 36 to 1,800 L Pma™ Pharma Matrix™ Mixer / Granulators
High-shear granulation
Ultima™ 600 Mixing, granulation, and drying
The basic Gral design is a high shear mixer granulator which allows the processes of dry mixing, wet mixing, granulation, and drying in a totally contained environment. The most important features of this basic design are the top-driven mixer and chopper, the removable bowl, and the "through-the-wall" installation of the larger machines.
Capacity: from 10 L to 1200 L
Precision Coater™ Precision Coater™ (Patented) - Process for Applying Thin Coatings to Fine Powders
Niro has developed a process which allows very thin coatings (as little as a few hundred atoms thick) to be applied to fine powders. We have coated powders with a mean diameter of from of 15 microns up to 1000 microns (1 mm) or more. We have also coated very irregularly shaped particles
The process works by suspending and tumbling the particles in a high velocity gas flow and applying the coating as a fine mist. Both liquid and solid powder coatings have been applied with the process.
PRECISION GRANULATION™ (Patented)
A NEW PROCESS FOR PRECISION CONTROL OF AGGLOMERATION AND COATING
While conventional top spray fluid bed granulation is a well-established process; there are a number of problems with this technology. Niro has developed a new granulation process, called Precision Granulation™ ( Patented ) which offers:
Better control of granule properties
The ability to granulate soluble and hygroscopic materials
The ability to granulate fine particles
A more stable process
Faster processing times
The Niro Precision Granulation™ ( Patented ), process is the result of intensive study of the flow behavior of particles suspended in gas streams
You have successfully added from to your part list.
---