Centrifugal Separation of Edible Fats
Product Announcement from GEA Westfalia Separator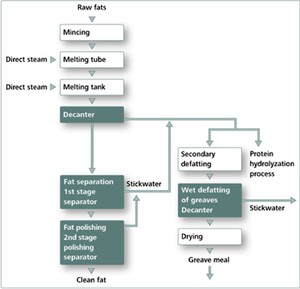 Centrifugal Separation of Edible Fats
Modern methods for processing raw animal fats into edible fats are characterized by wide-ranging use of centrifugal separation and clarifying techniques. Most common today is the wet rendering process, which is known to be gentle on the product. The dry rendering process is losing importance. Whichever process is used, separators and decanters from GEA Westfalia Separator are the heart of every fat rendering plant.
In dry rendering plants, decanters and self-cleaning separators are used for efficient clarification of dripping and press fat. Self-cleaning separators are used to polishing the fats.
Integration of the machines in the wet rendering process is especially advanced. In order to ensure optimum yields and high product quality, GEA Westfalia Separator was swift to develop complete wet rendering lines which can be adapted based on both customer needs and the raw materials processed. Depending on requirements, decanters can be used in 2- or 3-phase versions. All process parameters can be individually set for each end product so optimum quality is achieved in every case.
Complete process line from GEA Westfalia Separator for producing edible fats by the wet rendering process
Quality from extremely fine clarification
Depending on the type of raw fat used, the desired quality and the maximum throughput, the process can involve one or two separator stages after the decanter stage. Extremely fine clarification of the fat is achieved with the second separation stage. By adding hot water at a temperature of at least 95 °C, the finest protein substances are washed out, increasing the quality of the clean fat.
Secondary defatting of greaves
Total fat yield can be increased even further by installing an additional process stage for specific secondary defatting of greaves. This subsequent stage simultaneously reduces the fat content of the greaves by approximately 50 percent, creating a higher-quality product. The greaves are defatted by a decanter.
GEA Westfalia Separator also provides the perfect solution for the stickwater generated by wet rendering. Evaporation and centrifugal separation enable valuable proteins to be recovered and offer environmental benefits. As an alternative, the stickwater can be fed to a hydrolyzation process
---