Centrifugal Separators - Algae Applications
Product Announcement from GEA Westfalia Separator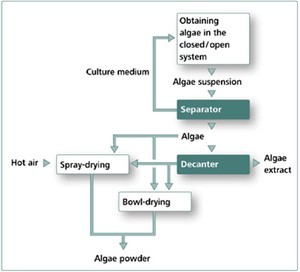 Download the product brochure here.
Algae contains high concentrations of polyunsaturated fatty acids, proteins, enzymes, vitamins, minerals and trace elements. Exploiting these natural raw materials with biotechnology releases this potential. The range of industrial applications includes cosmetics, pharmaceuticals, nutritional supplements, animal feeds, wastewater treatment and binding of heavy metals.
One algae-based product is agar-agar. It is obtained from the cell walls of the red algae Porphyridium. Food technologists use this as a thickener for soups, confectionery or ice cream. Its good setting properties also make it suitable as a vegetarian substitute for gelatin. In medicine, high doses of agar-agar are used as laxatives.
Several species of green algae are of importance. Astaxanthin, a natural carotenoid, is obtained from Haematococcus pluviales. It is used among to intensify the red color of farmed salmon and caviar substitutes. Dunaliella salina is used to produce beta-carotene. Chlorella is prized primarily for its high vitamin and mineral content. Among the blue algae, Spirulina is of special significance. Medical trials suggest that it can reduce cholesterol level and blood pressure.
Separators and decanters from GEA Westfalia Separator are used for concentrating, extracting and washing the algae. The centrifuges are suitable for businesses which produce algae using open ponds and for closed systems with photobioreactors which have advantages over open ponds because of improved light conditions and reduced risk of contamination.
Centrifugal technology for open ponds and closed systems
Selecting a separator for use with algae depends on the algae type and its cultivation conditions. Capacity is important, but other parameters must also be considered such as the viscosity of the product, the proportion of solids, the pH-value in the fermentation broth and the algal cell structure.
---