Introducing the ecoforce decanter
Product Announcement from GEA Westfalia Separator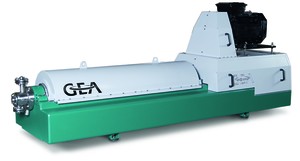 Maximum availability and performance with
the new Westfalia Separator® ecoforce decanter
Our newest decanter,Westfalia Separator® ecoforce, combines customer demands for maximum availability, high throughput capacities, excellent separating efficiency and maximum flexibility. Its modular design allows this new family of decanters to be tailored individually and in an optimum manner to meet the needs of the specific application and, if necessary, can also be retrofitted.
Maximum availability is assured by the service provided by the original manufacturer. The service program was integrated specifically in these decanters and is known as Westfalia Separator® directcare. Customers are able to choose a level of service which most closely meets their requirements. This results not only in a high degree of availability, but also allows customers to plan service costs throughout the entire duration of the contract. The aim of this new concept is to make all technical and economic benefits of the new decanter series available in complete, customized manner throughout the entire life cycle of the machine. It also allows our cutomers to calculate the total cost of ownership.
The uniform Westfalia Separator® summationdrive will be installed in all models of the new decanter. This high-torque drive provides the optimum differential speed to the process in an efficient manner, thus guaranteeing maximum performance and high separating efficiency. The power is supplied only to the shafts where it is actually required. This means that the drive operates in a particularly energy-efficient manner.
Gear, bearing, lubrication, materials, steels and production of the scrolls and bowls in the Westfalia Separator® ecoforce series are designed to cope with permanently high load levels. Unlike older machine generations, all decanters in the Westfalia Separator® ecoforce family have an external gear. This separates the product chamber from the drive chamber.
###
---