Separators - Beverage Applications
Product Announcement from GEA Westfalia Separator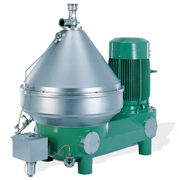 Download product brochures here.
GEA Westfalia Separator is a global leader in separation technology whose equipment is found in virtually every industry that processes fluids, including – the clarification of suspensions, separation of solids from liquids, separating liquid mixtures of differing densities or viscosities, extraction of active substances, and the concentration or dewatering of solids.
In beverage production our technology is driven by three overall goals: achieving maximum product quality, getting the highest yield from raw materials and maximizing efficiency by conserving resources such as water and energy. To achieve these goals we have worked consistently to develop new and patented technological and process innovations. Our wide range of clarifiers, separators and decanters are appropriate for use in large and small operations.
Beer
Brewery separators can increase the capacity and productivity of the facility. Besides improving quality centrifuges can:
Ensure consistent filtration results
Minimize product losses
Accelerate production time
Reduce filtration operating costs.
Our special line of HB equipment has been specially developed to meet the needs of craft brewers ready to take their operations to the next level of productivity and profitability.
Westfalia Separator® PROFI® is a combination of two technologies -- centrifugal separation and filtration -- which eliminates the need for kieselguhr and enables breweries to efficiently produce high quality beer with minimal environmental impact.
Wine
When you want to squeeze profitability from grapes, decanters and clarifiers from GEA Westfalia Separator can help. They provide effective yeast removal and wine recovery from lees while maintaining the inherent quality of the wine. Plus, unparalleled product yields provide a rapid return on investment.
Clarifying centrifuges have long been used in the production of wine. The GEA Westfalia Separator® vinex® method utilizes decanters in place of wine presses, to allow for the continuous juicing of the grapes, thereby reducing mash standing times. Advantages include gentle product treatment, high quality yield and faster, more efficient production flows.
Fruit & Vegetable Juices
Juice from citrus fruits, berries and vegetables are popular for adults and children because of nutritional value and high antioxidant content. The GEA Westfalia Separator frupex® process utilizes separators and decanters to provide sealed processing for maximum hygiene, minimal oxidation, and rapid yet gentle juice extraction. The frupex system is equally suitable for small batches or large production flows.
Coffee, Tea & Soy Drinks
Coffee continues to be an important market with the growth of specialty coffees like cappuccino, espresso, and a wide range of flavors. GEA Westfalia Separator supports the coffee industry in the clarification and recovery of extracts. Where consumers' taste and enjoyment is so important, coffee producers require a process that is gentle on the product, provides maximum yield from their valuable coffee beans, and guarantees consistent quality.
The tea industry uses decanters and separators from GEA Westfalia Separator in the production of cold and hot mix instant teas and ready-to-drink tea products. Following extraction, various clarifying stages ensure that the extracted tea leaves are perfectly dewatered and that all residues are completely removed. The high degree of clarifying efficiency is associated with extremely gentle treatment of the tea extract and maximum product yield.
Soy Drinks are especially rich in protein, and offer a lactose-free and cholesterol-free alternative to people who are health-conscious or have food sensitivities or allergies. Another healthy product made from soybeans is tofu, which is easily digested, low in calories, and free from cholesterol and lactose. GEA Wesfalia Separator® soline® decanters and separators play a central role in the industrial production of soy drinks and tofu.
---