ASTM E2656: Process Control and Real-time
Product Announcement from GE Analytical Instruments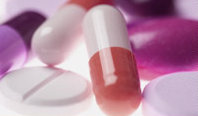 The 21st century has ushered
in unique challenges for the
pharmaceutical industry. As cost
pressures continue to mount
with the proliferation of generics
and the "patent cliff," worldwide
regulatory bodies have placed
renewed emphasis on patient
health.Whether speaking about
Process Validation, Quality
by Design (QbD), or Process
Analytical Technologies (PAT),
manufacturers have been
directed to build a higher degree of quality, safety,
and efficacy into their manufacturing processes and
products to assure compliance. This involves a greater
process understanding and strict control of key
process variables to assure that the finished product
meets the intended quality attributes.
While the intent of the guidance is quite clear, the
pharmaceutical industry as a whole has been slow to
adopt new quality and manufacturing practices. In an
understandably risk-averse environment, companies
have been hesitant to change processes without
more concrete templates for success. This has
been especially true in the monitoring and control of
Purified Water and Water for Injection systems. Many
companies continue to rely on legacy laboratory
sample plans for attributes such as Total Organic
Carbon (TOC) without a clear path to implementing
real-time process control. However, a well-designed
and executed transition to on-line TOC can deliver
both better quality and reduced costs.
The Role of Consensus
Standards in Filling the Gap
Realizing that guidance documents
only provide generalized information
to assist in implementation, the
FDA encouraged pharmaceutical
companies to participate in voluntary
consensus standards organizations
and develop "best practices" for
the industry. In response, ASTM
International formed the E55
committee in 2003. Comprising federal
agencies, equipment vendors, pharmaceutical
manufacturers, design
professionals, and professional societies;
the E55 committee has issued eight consensus standards
since 2004 to promote innovations in quality and
pharmaceutical manufacturing. These standards provide
practical steps for implementing specific technologies
and processes. They are recognized by regulatory
bodies and cited specifically in guidance documents to
the industry.
Practical Implementation of On-line TOC for
Process Control - ASTM E2656
Published in October 2010, ASTM E2656 provides a
comprehensive framework for implementing on-line TOC
instrumentation within pharmaceutical water systems.2
The use of the standard allows users to comply with
pharmacopoeia requirements while also meeting the
regulatory expectations of greater process understanding
and control.
The standard is divided into six sections to assist in
implementation:
• Technical Evaluation - Determine the appropriate
TOC technology based on the water system
characteristics and intended use of the device.
• Risk Assessment - Determine the appropriate
placement of on-line TOC instruments using risk
assessment tools.
• Data Quality - Qualify all on-line TOC instruments,
compare the on-line method to legacy laboratory
methods, and validate the relationship between the
installation location and the relevant points of use.
• Implementation Strategies - Develop processes
to incorporate on-line TOC devices into quality,
manufacturing, and maintenance systems.
• Continuous Verification Procedures - Use statistical
tools and ongoing verification strategies to assess
process control.
• Continuous Process Improvement - Utilize the
process knowledge gained from monitoring to make
incremental improvements to the system.
Quality System Optimization (QSO)
In alignment with the ASTM E2656 standard, GE Analytical
Instruments' Quality System Optimization Program uses
a risk-based, scientific approach to assist in process
validation. The comprehensive array of professional
services is designed to efficiently implement on-line
TOC analyzers for process control and real-time release
testing. (See Table 1.)
Pathway to Success
With the practical framework provided by ASTM
E2656 in combination with the QSO implementation
tools, there is a clearly defined pathway to improved
water system control at reduced cost . For more
information, contact GE Analytical Instruments or
visit www.geinstruments.com.
You have successfully added from to your part list.
---