Sievers 500 RL
Product Announcement from GE Analytical Instruments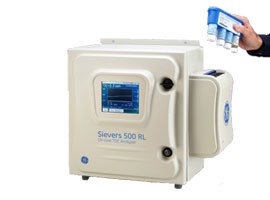 Background
In January 2011, the United States Food and Drug
Administration (FDA) published a Guidance for
Industry document outlining the general principles
and practices of process validation. In this document,
the FDA encourages pharmaceutical manufacturers
to collect and evaluate process data throughout the
product life cycle in an effort to deliver quality product
to the patient. In addition, the cGMP regulations require
analytical devices or equipment, including on-line
TOC instruments, to be installed correctly and suitably
located for their intended use per CFR § 211.63.1
Most on-line TOC instruments are installed for use as
process control and monitoring devices, with final
release samples still being measured off line in the
QC laboratory. Although GE Analytical Instruments'
on-line TOC analyzer customers seek alignment with
current industry guidance, they may miss some critical
elements by using different approaches to installing
instruments for on-line TOC testing. To help standardize
the installation procedure and ensure the instrument
is installed in alignment with regulatory expectations,
GE Analytical Instruments developed a robust 500 RL
installation package. This Fact Sheet provides more
detail regarding the specific elements and offerings
of the Sievers 500 RL On-line TOC Analyzer Installation
Package.
Sievers 500 RL Installation Package Elements
The 500 RL Installation Package includes three critical
components, including Installation Activities, Performance
Verification, and Standard Operating Procedures (SOPs).
Table 1 highlights the 500 RL Installation Package
documentation components and the on-site services
available.
The 500 RL Installation Package also
includes a guidance procedure for
establishing alert and action control limits
for on-line TOC analysis. This guidance
procedure has been designed to align with
the FDA's new Process Validation Guidance
expectations and ASTM E2656 standards
associated with on-line TOC data being
used for real-time testing. Accompanying
the guidance procedure is the 500 RL SOP.
Figure 1 shows the 500 RL SOP's main
topics that are referenced during the SOP
Training and System Overview service.
Once completed, attendees receive the
appropriate documentation for their
company-specific training records.
TOC in the 21st Century

As the pharmaceutical regulatory environment
changes from legacy approaches to risk mitigation
and continuous quality assurance, GE Analytical
Instruments is here to support your needs. Whether
you are using TOC for compendial testing or exploring
other options such as cleaning verification, thorough
instrument installation is a cornerstone of successful
process control using real-time analysis. By staying
current with internationally recognized standards
for analytical procedures, GE Analytical Instruments
ensures the 500 RL Installation Package offers the
documentation, standards, and training on SOPs
needed for compliance. We also provide the highest
degree of analytical measurement quality with the
Sievers 500 RL Analyzer.
About Quality System Optimization (QSO)

GE Analytical Instruments' Quality System Optimization
(QSO) Program is a comprehensive suite of professional
services for implementing on-line TOC analysis for
real-time testing. This program includes installation
packages, method and process validation protocols,
method and process validation protocol execution
services, strategic workshops, and on-site consulting.
For more information, please contact geai@ge.com,
800 255 6965, or 303 444 2009.
You have successfully added from to your part list.
---