Product Announcement from GE Analytical Instruments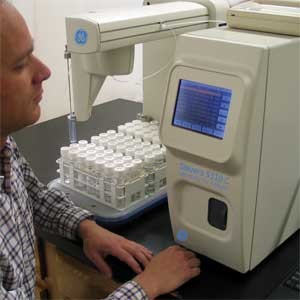 The Sievers® 5310 C Laboratory Total Organic Carbon Analyzer was designed specifically for simplifying TOC monitoring of raw and finished drinking water for plant optimization and USEPA compliance reporting. The Sievers 5310 C uses the Sievers proven membrane conductometric TOC measurement technology that complies with Standard Method 5310 C and has been demonstrated to recover all classes of organic compounds found in municipal waters.
The smallest and only self-contained laboratory TOC analyzer on the market (19.2 cm / 7.6 in wide), the Sievers 5310 C Analyzer offers convenient, easy-to-use features designed to simplify operation with the lowest maintenance and operating costs.
The Analyzer requires minimal operator training and can be set up and analyzing samples in less than one hour. Unlike other TOC analyzers using combustion oxidation or Non-Dispersive Infrared (NDIR) technology, the Sievers 5310 C requires no high-purity gases, toxic catalysts, external reagents, or ultrapure gas generators, simplifying operations and keeping cost of ownership at a minimum. Annual routine maintenance takes less than one hour, and requires no special training. Additionally, the 5310 C has unsurpassed stability, only requiring annual calibration.
For high-volume laboratory applications, the Sievers 5310 C can be used with the high-capacity Sievers 900 Autosampler, which offers user-defined random sampling capability for added flexibility and convenience. The Sievers DataPro 5310 C™ software, which integrates the Autosampler with the 5310 C Analyzer, offers a new TOC Removal Percentage protocol to facilitate USEPA regulatory compliance.
The Sievers 5310 C Laboratory TOC Analyzer is a member of the Sievers 900 Series TOC Analyzer family. All 900 Series Analyzers offer exceptional precision and accuracy across an extended 0.03 to 50,000 parts per billion dynamic range; four-minute analysis time; a color touch screen display for quick access to historical data, and a USB port for easy data transfer.
You have successfully added from to your part list.
---