Bistable Rotary Solenoids
Product Announcement from GEEPLUS Inc.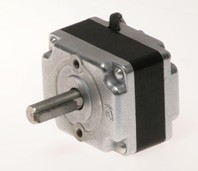 Bistable Rotary Solenoids have been developed especially for paper transportation and sorting systems like e.g. banknote sorting mechanisms. They can be driven in either direction and hold in either endposition with no power applied. For the movement they just need a short power pulse.
The most important characteristics are:
rotary angle up to +/-55° around center position
no integral mechanical endstops (must be supplied either in the customer mechanics or as an custom option)
torque up to 0.4Nm
high life due to ball bearings
no axial travel
fast response: cycle times < 5ms possible
optional: viscous damping with ferro-fluids: smooth operation, soft mechanical endstop, less noise
---