LARGE ROTARY MOTION FROM A SMALL SOLENOID
Product Announcement from GEEPLUS Inc.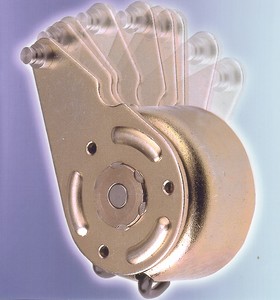 The model 401 rotary solenoid from Gee Plus Inc. of Elgin, South Carolina, develops 12.5 watts continuously at 100 percent duty cycle. Basic maximum starting torque at 25 degrees rotary motion is 73 ounce-inches at the shaft.
The use of a 2 inch lever arm attached to the model 341's armature plate provides a controlled smooth movement. The lever arm action of the rotary enables a long linear stroke motion of approximately 2.0 inches from a physically small solenoid. A much larger direct linear solenoid would be needed to achieve the same long stroke operation.
Gee Plus offers a wide range of coils to cover continuous solenoid operation from 6.6 volts dc up to 210 volts dc. For further information, please contact Dick Driscoll at (803) 408-3009, Gee Plus Inc., 2400 Cedar Springs Road, Elgin, SC 29045.
---