NEW HIGH TORQUE NEMA 42 HYBRID STEP MOTOR
Product Announcement from GEEPLUS Inc.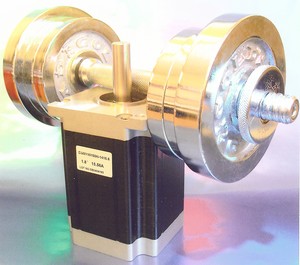 Gee Plus Inc., introduces a new high torque NEMA 42 1.8° step 2 phase hybrid step motor. The holding torque reaches 180 inch-pounds in a 4.3 inch square by 5.91 inch long package size. The Gee Plus hybrid step motor is supplied with 8 leads that allows it to be energized in unipolar, bipolar series, or bipolar parallel connection configurations.
Phase currents are 6.5 amps for bipolar parallel, 3.25 amps for bipolar series, and 4.6 amps for unipolar connections. Unit resistance for each half phase is 0.72 ohms @ 25°C. Step angle accuracy is with + 5% of a full step in an unloaded condition. The Gee Plus step motor weighs 18.5 pounds with a rotor inertia of 0.097 pound-inch-seconds squared (10.9 kilogram-centimeters squared).
For further information, please contact Dick Driscoll at (888) 433-7587 - 1709 Gray Gables Way Buford, GA 30519
---