NEW LARGER SIZES OF VOICE COIL MOTORS
Product Announcement from GEEPLUS Inc.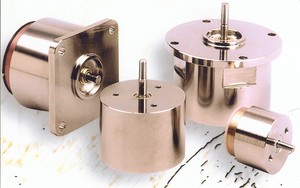 Gee Plus Inc. of Elgin, South Carolina, furnishes 4 new larger sized voice coil motors that possess force values ranging from 36 newtons (8.1 pounds) from model VM4632 (1.85 inches OD by 1.26 inches long) up to 150 newtons (31.5 pounds) from model VM8054 (3.15 inches OD by 2.13 inches long). The VM4632 voice coil motor model provides a 0.4 inch stroke with a 210 watt input at 10% duty cycle. Continuous force values reach 12 newtons (2.7 pounds).
The largest Gee Plus voice coil motor (VM8054) develops a 1.26 inch stroke with a 500 watt input at 10% duty cycle. Continuous force values for the VM8054 voice coil motor is 45 newtons (10.1 pounds). The two intermediate Gee Plus voice coil models, the VM5042 and VM6548 develop peak force values (10% duty cycle) of 55 newtons (12.4 pounds) and 76 newtons (17.12 pounds).
Voice coil motors offer excellent performance characteristics where linear actuation is required over short distances at very high speeds. For further information, please contact Dick Driscoll at (803) 408-3009, Gee Plus Inc., 2400 Cedar Springs Road, Elgin, SC 29045.
---