NEW LINEAR STEPPING ACTUATORS
Product Announcement from GEEPLUS Inc.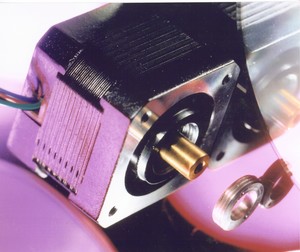 Gee Plus Inc. of Elgin, South Carolina, announces the Size 17 linear step actuator, model DSM4234-LN-04150, that combines a two phase hybrid step motor with a lead screw to create precision linear motion. The maximum load capacity of the Gee Plus linear actuator is 150 Newtons (33.8 lbs-force). The position step size is 3.5 ?m or 0.00138 inches.
The DSM4234LN type actuator's front bearing is supported by a threaded nut to adjust for minimum backlash. This solid support minimizes backlash in either direction independent of loading. The shaft diameter is large when compared to a standard hybrid step motor, and incorporates a threaded brass section (for good lubricity) at the front end. The Gee Plus DSM4234LN linear actuator utilizes a lead screw nut that allows a threaded shaft of extended length to be employed. The lead screw is a metric M4 size with a 0.7 mm (0.0276 inch) pitch.
For further information, please contact Dick Driscoll at (803) 408-3009, Gee Plus Inc., 2400 Cedar Springs Road, Elgin, SC 29045.
---