NEW LINEAR VOICE COIL ACTUATOR WITH LONG STROKE
Product Announcement from GEEPLUS Inc.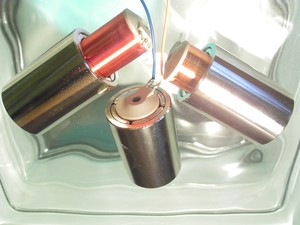 Gee Plus Inc. of Elgin, South Carolina, announces the new VM2436 voice coil actuator that provides precision bidirectional linearity over a maximum linear stroke of 0.59 inches. The Gee Plus long stroke VM2436 linear voice coil motor develops a peak force of almost 11 ounces in the small package size of 0.94 inches outside diameter by 1.49 inches long.
Gee Plus developed a special construction that uses a high technology Teflon impregnated coating on the core of the magnet assembly, with the coil assembly running directly against this surface. This linear actuator is ideally suited for individual equipment requiring a z-axis drive.
For further information, please contact Dick Driscoll at (803) 408-3009, Gee Plus Inc., 2400 Cedar Springs Road, Elgin, SC 29045.
---