NEW OPEN FRAME RD SERIES SOLENOIDS
Product Announcement from GEEPLUS Inc.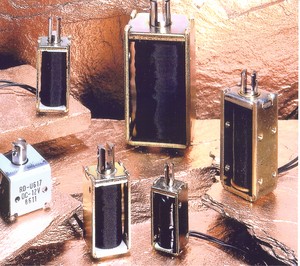 Gee Plus Inc., offers the new RD series of 6 open frame solenoid models offer flexible production with fast turnaround delivery. While the open frame solenoid features the simplest configuration, a maximum performance is achieved through the use of better magnetic steels and superior manufacturing techniques. The smallest RD-A420 open frame solenoid (.39" x .43" x .84") develops 11.0 ounces peak pull force at 100% duty cycle and 1.1 watts. The largest RD-A1264 open frame solenoid (1.50" x 1.18" x 2.52") develops 4.9 pounds peak pull force at 100% duty cycle and 7.5 watts.
All 6 RD open frame models are available in 6 volt dc, 12 volt dc and 24 volt dc winding configurations. These models can be supplied in production quantities subject to existing production tooling. Gee Plus can also supply customized open frame RD versions to suite specific applications.
For further information, please contact Dick Driscoll at (888) 433-7587 - 1709 Gray Gables Way Buford, GA 30519
---