SUB-MINIATURE STEP MOTORS
Product Announcement from GEEPLUS Inc.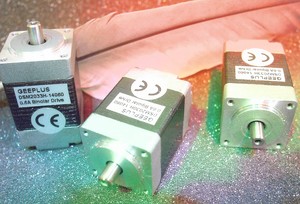 Gee Plus Inc., announces the new sub-miniature 0.79" (20mm) square 1.8° per step hybrid step motor, part number DSM2030H-14060. This 1.18" (30mm) long Gee Plus step motor generates a holding torque of 2.5 ounce-inches with a bipolar driver current of 600 milliamps per phase. The square configuration allows a larger rotor OD (outside diameter) to be utilized. This results in higher holding and running torque values. The rotor and stator teeth profiles are optimized to achieve smooth operation for microstepping drive techniques.
Unit phase resistance is 6.5 ohms per phase at 25°C ambient temperature. A 0.157" (4mm) shaft is provided for mechanical coupling to the customer's shaft.
For further information, please contact Dick Driscoll at (888) 433-7587 - 1709 Gray Gables Way Buford, GA 30519
---