THREE POSITION SOLENOID WITH TOTAL STABILITY
Product Announcement from GEEPLUS Inc.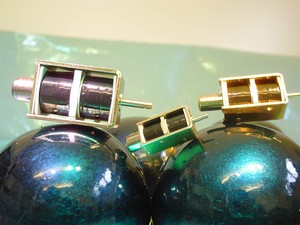 NEW THREE POSITION SOLENOID FROM GEEPLUS GIVES TOTAL STABILITY
A new 3-position solenoid from Geeplus has a stable centre position from which it will not move until the applied load exceeds a pre-loaded spring mechanism.
A separate return spring is incorporated for each direction, however, the centre position is determined mechanically by the position of the stopper rather than by the balance between the springs, so that even when an external force is applied, or the spring constants of the internal springs change, the centre position remains the same.
The tubular solenoid can be driven electrically either side of the centre position, by energising one or other of two coils, making driver circuits and position sensors required for motor drives unnecessary.
The extension of the operating stroke of ordinary solenoids is difficult in principle, however, as the three position solenoid is comprised of two independent magnetic poles, each stroke is driven separately enabling strokes to be set at comparatively greater lengths.
Available in three sizes - 19, 23 and 32mm with stroke and force of 2mm>4N, 3.5>6N and 5mm>12N respectively - the solenoids can also be supplied in open frame format for applications with cycle life requirements.
---