Wide Range of Solenoid Sizes and Types
Product Announcement from GEEPLUS Inc.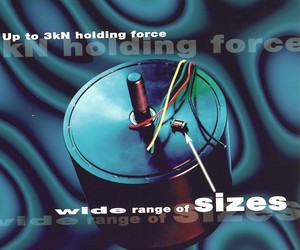 Starting with the subminiature latching solenoid, P/N 870C, Gee Plus Inc. of Elgin, South Carolina, offers a wide range of sizes and types. The subminiature 0.157 inch (4 mm) square by 0.374 inch (9.5 mm) long latching solenoid develops a holding force of 3.53 ounces (100 gms). This solenoid type uses permanent magnets to create a holding position without the need of a power supply.
The very large 870F push-pull solenoid provides up to an incredible 650 pounds holding force in a 3.43 inch (87 mm) diameter by 1.85 inch (47 mm) package size. The Gee Plus push-pull type solenoid utilizes a coil with a maximum amount of magnet wire in the smallest amount of space surrounded by a ferrous iron housing.
Gee Plus can provide solenoids for a wide range of actuator applications. For further information, please contact Dick Driscoll at (803) 408-3009, Gee Plus Inc., 2400 Cedar Springs Road, Elgin, SC 29045.
---