"Push-Pull" Solenoids
Product Announcement from GEEPLUS Inc.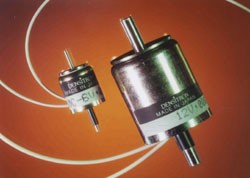 (Small) "Push-Pull" solenoids are the most robust series of linear solenoids and are therefore the best option for heavy duty applications. Their intelligent magnetic concept allows a very high holding force at a comparably low power input. This makes them ideally suited for applications asking for low power consumption or low heat dissipation.

There are Small "Push Pull" and "Push Pull" solenoids; the difference between the two versions is the size and the mounting (small push pull solenoids have threaded holes in the base plate, push pull solenoids have mounting studs).
The following basic properties describe push pull solenoids:
stroke up to 30mm (depending on model)
holding force up to 2000N
high life expectancy: up to 50 million cycles and more
fast response time: switching times <5ms possible (depending on size and load)
standard versions from 11mm to 87mm diameter
---