Natural Gas Measurement & Regulation Stations
Product Announcement from GE Oil and Gas - Dresser Pipeline Solutions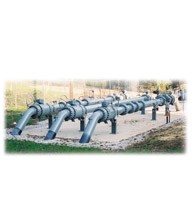 Measurement & Regulation Stations and Skid-Mounted Transmission Stations
Dresser Pipeline Solutions extends its unique custom manufacturing capabilities and engineering expertise to provide a complete turn key solution in the design, development and manufacture of gas distribution, transmission and measurement and regulation gate station systems.
Specializing in measurement, regulation and control products for the natural gas industry, Dresser provides the most innovative solutions to bring gas control products together in a complete FloSystems package, whether leveraging a complete selection of Dresser products or incorporating customer specified products.
Every prefabricated set is custom engineered and built to configurations and options to suit your particular requirements. Dresser works closely with the customer throughout the pre-engineering design process, manufacturing and radiographic testing to make certain that the optimum station is built for your system.
Contact Dresser Pipeline Solutions today to discuss your natural gas station needs!
---