See Video - Hot Tapping Line Stopping Services
Product Announcement from GE Oil and Gas - Dresser Pipeline Solutions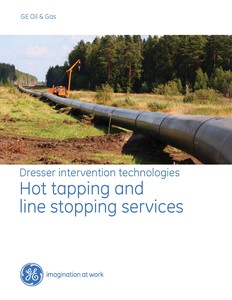 GE Oil & Gas offers the next generation of Hot Tapping and Line Stopping (HTLS) products, and the introduction of a premium suite of HTLS services.
According to a 2010 AMG study GE Oil & Gas - Dresser Intervention Technologies scored the only perfect 10.0 on delivery and scheduling criteria out of the top 5 major manufacturers and service providers.
Carefully shaped by detailed customer feedback, the GE Oil & Gas customized product-and-service model is designed to satisfy evolving client demand for advanced service capabilities and greater versatility. A needs-specific technical solutions base married to quick response times; scheduling agility; and innovations for natural gas transmission, distribution, liquid transmission and process clients have created a comprehensive, integrated solutions approach that enables clients to take advantage of the evolving pipeline integrity environment and meet current and future pipeline needs across a spectrum of service levels.
By providing clients with the choices that let them conduct HTLS service when and where they need it, GE Oil & Gas is building upon a more than 130-year tradition of empowering clients. Whatever you need us to be - from selective provider to full Alliance Partner* - the Dresser Intervention Technologies team will provide the answers to the unique issues and problems you face.
Contact us for answers to your specific fluid transmission application!

Play See Video - Hot Tapping Line Stopping Services Video
---