Product Announcement from GFS Chemicals, Inc.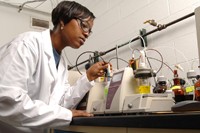 FLAVOR & FRAGRANCE CHEMICALS - AROMA CHEMICALS - RAW MATERIALS

GFS Chemicals products have been used as building blocks and intermediates for the manufacture of flavors and fragrances including aroma chemicals. We offer a broad range of unsaturated alcohols, unsaturated acids and esters, internal alkynes and phenylacetylene derivatives.
GFS Manufactures for a variety of products for the flavor and fragrance industry (including but not limited to):
1-Methoxy-1-butene-3-yne
Bromo heptanes
4-Pentyn-1-ol
Neopentyl alcohol
3-Amino-3-methyl-1-butyne
Propargyl amine
1-Heptyne
Methyl-5-hexynoate
4,4'-Diphenyl-2,2'-bipyridine
Propargyl alcohol THP
2-Butyn-1-ol
1-phenyl-2-propyn-1-ol
2,2-Diisopropylpropane nitrile
Phenylacetylene
Ethyl-2-butynoate
1-Octyn-3-ol

GFS understands the demanding needs of the Flavor and Fragrance industry. Process controls and batch production operations help ensure consistent quality control and batch to batch profiles. Our technical staff constantly monitors the quality of our products using the most current methods and instrumentation. We have a proven track record of taking products from development through the commercialization process. Our hands on staff of chemists are available to solve technical problems and to work with you to develop new and improved products. Contact us with your specific requirements or to learn more about our capabilities.
For more information contact:
David Baust – General Manager
GFS Organic Specialties
david@gfschemicals.com
614-224-5013 extension 310

GFS products are not intended, approved or authorized for human or animal consumption nor for direct use in any food, drug or cosmetic applications.


You have successfully added from to your part list.
---