Product Announcement from GGB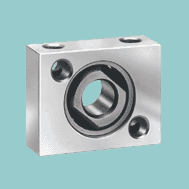 Self-aligning bearing housings: UNI™, MINI™, EXALIGN™
UNI, MINI, and EXALIGN self-aligning bearing housings are designed to be used with our range of metal polymer bearings.
DB™
An alloyed cast bronze with solid lubricant inserts particularly suited for applications with high specific loads, or with long dwell periods, or when it is not practical to use lubricants.
DEVA™: deva.bm®, deva.glide® and deva.metal®
DEVA bearing materials consist of steel or alloy backing with a bronze sliding layer containing a solid lubricant.
This construction provides high mechanical and fatigue strength, high temperature capability and resistance to hostile environments.
DEVA bearing materials are available as bushes, plates, spherical bearings and bearing segments.
Multifil™
Low-friction, durable bearing lining capable of being bonded to any rigid substrate. Common applications include machine tool ways, gibs, and other sliding applications.
Subassemblies
High-precision, machined aluminum alloy housings with pre-assembled, low-friction bearings. One major application of this technology is the manufacture and assembly of bushing blocks for high-performance hydraulic external gear pumps.
Novel design and engineering solutions to low-friction multi-component assemblies, e.g. housings incorporating moulded-in sealing features and low-friction sliding surfaces.
You have successfully added from to your part list.
---