Product Announcement from GIGAVAC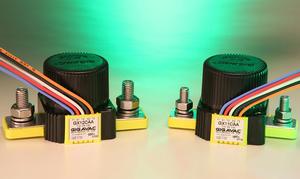 New High Efficiency Coil Options for 150+ Amp GX11 and 225+ Amp GX12 contactors that can power switch high currents, both DC and AC up to 750 volts. The new 12 Vdc and 24 Vdc high efficiency coil options require only 1.1 watts, a fraction of the coil hold power of other contactors with these voltage ratings. "Research indicates that we are the first manufacturer to offer this high current, yet low watt and low cost, sealed multi-purpose contactor," revealed GIGAVAC President Mike Molyneux. These high current, completely sealed single pole, single throw, normally open universal contactors use GIGAVAC's EPIC® sealing technology (Extended Performance Impervious Ceramic) with two coils, not a PWM (pulse width modulation) economizer used by other manufacturers that is known to radiate noise and cause problems with users coil power source.
Measuring only 57 mm (2.25 in) in height, 60 mm (2.4 in) in width and 115 mm (4.5 in) in length, the GX11 & GX12 sealed contactors can be mounted in any direction practically anywhere. The GX11 & GX12 contactors are UL 508 ambient compliant to 75°C at 150 Amp and 225 Amp respectively, but can carry and switch 225 Amp / 275 Amp at 50°C. Stainless steel hardware and mounting inserts provide years of corrosion free service. Single pole, double throw (SPDT) auxiliary contacts rated at 2 Amps are available as an option.
The GX11 and GX12 can operate in unforgiving environments without requiring any special protective packaging. Hermetically sealed, the sealed contactors are designed to meet: UL 1604 for Class I & II, Div 2 and Class III for use in hazardous locations; IP 67 for temporary water immersion for 30 minutes; SAE J1171-external ignition protection; and ISO 8846 for protection against ignition around flammable gasses. The EPIC® sealing technology reduces risk of fire or meltdown in over-current conditions.
GIGAVAC makes an entire line of sealed contactors rated up to 350+ Amps that can switch both DC and AC to 750 volts.
You have successfully added from to your part list.
---