DMC-21x3 Econo Ethernet Motion Controller
Product Announcement from Galil Motion Control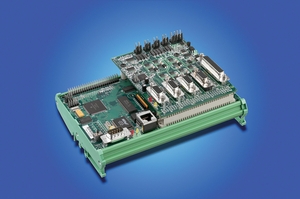 Galil's DMC-21x3 Ethernet motion controllers are designed for extremely cost-sensitive and space-sensitive applications. These controllers are typically half-the-price and half-the-size of box-level Ethernet controllers. These intelligent, card-level controllers can be purchased with plug-in, multi-axis ampilfier boards which eliminate wiring between the controller and drives. Amplifier boards are available for driving stepper, brush and brushless servo motors up to 500 Watts. Or, the ICM-20100 break-out board can be used for easy connection to external drives.
The DMC-21x3 series is available in one through eight axis versions and can be configured for control of step or servo motors on any combination of axes. The card-level controller measures just 4.25" x 7.0" for one through four-axis models and 4.25" x 10.75" for five through eight axes. Any mode of motion can be programmed including linear and circular interpolation, contouring, electronic gearing and ecam. As with all Galil controllers, programming the DMC-21x3 is simplified with two-letter, intuitive commands and a full set of software tools such as WSDK for servo tuning and analysis, and the ActiveX Tool Kit for Visual Basic users.
Key Features:
Ethernet 10Base-T and (1) 19.2kb RS232 port • Available in 1 through 8 axis formats • Optional plug-in amplifier boards for driving stepper, brush or brushless servo motors up to 500 Watts • Ethernet supports multiple masters and multiple slaves allowing communication with multiple computers and I/O devices. Supports Modbus protocol for communication with I/O devices • Accepts encoder frequencies up to 12 MHz for servos and ouputs 3 MHz pulses for steppers • Advanced PID compensation with Velocity and Acceleration feedforward, integration limits, notch filter and low-pass filter. Sample times to 62.5 microseconds per axis • Modes of motion include jogging, point-to-point positioning, contouring, linear and circular interpolation, electronic gearing and ECAM • Multitasking for concurrent execution of up to eight application programs • Non-volatile memory for application programs, variables and arrays • Dual encoders, home input and forward and reverse limits accepted for every axis • 8 TTL uncommitted inputs and 8 outputs for 1- through 4-axis models; 16 inputs and 16 outputs for 5- through 8-axis models • Add optically isolated I/O with ICM-20105 • Add 8 analog inputs and 40 digital I/O with optional DB-28040 • Connects to Galil's IOC-7007 Intelligent I/O controller for additional analog and digital I/O on the Ethernet • High speed position latch and output compare for each axis • Sinusoidal commutation for brushless servo motors • 1-4 axes card: 4.25" x 7.0" 5-8 axes card: 4.25" x 10.75" • DIN-Rail mount option • Accepts +5V, +/-12V DC inputs; DC-to-DC converter option for single 18V to 72V DC input • DMC-21x3 uses 96-pin DIN connector for each set of 4 axes • Custom hardware and firmware options available • Ceramic Motor Option allows precise control for all Ceramic Motors. • DMC-31x3 option allows up to eight axes to be distributed amongst several DMC-31x3 controllers on a single Ethernet network
You have successfully added from to your part list.
---